BA/BA (Hons) International Hospitality, Tourism and Events Management*
On this course you will learn the business management skills that the best employers in international hospitality, tourism and events are looking for, opening up a wealth of career opportunities. A twenty-week internship boosts your employability.
Why QMU?
We ranked in the top 20 UK universities for Hospitality, Leisure, Recreation and Tourism in the Times and Sunday Times Good Uni Guide 2022.
The course has a Student Experience Fund that helps pay for a range of extra-curricular student activities across the four-years. Enjoy, trips to a range of visitor attractions and events and perhaps even taste the produce on a brewery and distillery tour as part of your studies at QMU.
Smaller class sizes mean you will enjoy more personal engagement with lecturers. We will know you by name and help manage your learning from your first lecture to graduation.
More people visit Edinburgh than any other UK city after London, and you will study on a campus that is six minutes from the centre of town. It is the perfect place to learn about the hospitality, tourism and events management trade in the world's leading festival city.
Our graduates are usually in employment or further training soon after graduating. Many are making names for themselves in highly respected hospitality, tourism and events businesses, in the UK and across the world, including Disney World, Hilton and Visit Scotland.
At QMU we have a strong commitment to social justice and the environment. The academic team believe passionately that business can be financially successful, maintain a focus on employees and customers and play a positive role in the future of our environment. This ethos is woven throughout the course and the team believe that this approach leaves our graduates in a very strong position to manage businesses in the future.
What you will gain from this course
On  this course you will:
Gain a thorough theoretical understanding of the political, economic and social factors at work in the industry, and what they will mean for you as a manager of the future.
Learn hands-on how to manage money, resources and talent in the fast-moving hospitality, tourism and events environment.
Plan and deliver a live event.
Acquire the skills to work in exciting and vibrant areas of increasing importance and relevance to a modern and socially just society.
The hospitality, tourism and events sector is a significant contributor to the Scottish economy and supports a substantial number of enterprises. The events business has grown exponentially in the last 20 years, from pop-up food fairs to corporate events, fashion shows to our own world-famous Edinburgh festivals. Events are key features within hospitality and tourism, and during your course you will plan, deliver and execute a live event to put theory into practice in a creative way.
As a graduate of our international hospitality, tourism and events management degree with first-class management skills and practical  expertise, you will be at the forefront of these exciting industries.
You can study for an honours degree over four years or an ordinary degree over three years. 
*Subject to validation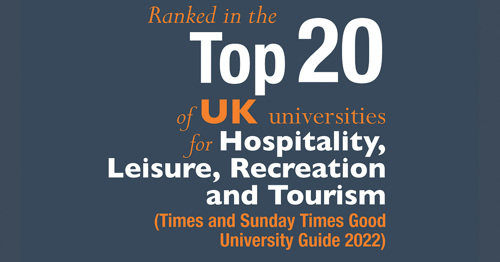 Modules/course content
Degrees in hospitality, tourism and events have been offered by QMU for many years. We regularly review course content and options to ensure students are provided with an up-to-date learning experience which is relevant to current trends in hospitality, tourism and events management. At the time of posting (Feb 2022) we have not yet confirmed all final modules for 2023 entry. This information will be posted here when available.
Year One: You will explore the key concepts that are the foundation of hospitality, tourism and events. Additionally, you will undertake a range of introductory modules around business management, for example, marketing and finance. The combination of theoretical concepts and the inclusion of practical and vocational skills prepares students for real-life situations. Visiting sites and venues will enhance your experience
and understanding, and guest lectures by leading industry figures will bring your learning to life. You will engage with practical and vocational skills including food service and preparation and group leadership to prepare for the planning and delivery of a live event: culminating in a live event with our partner Edinburgh New Town Cookery School.
Year Two: Year Two prepares you for a challenging and rewarding 20-week internship of your choice, in the UK or overseas, during which time you will be supported by the University. Additionally you will develop skills to think critically about hospitality, tourism and events within a number of different political and social settings. There will be a focus on management skills, by studying, for example, human resource management.
Year Three: Year Three will deepen your understanding of a range of management techniques to assist in your chosen profession. You will study specialist modules about the hospitality, tourism and events sector and their contributions to the economy and society in the pursuit of social justice, for example, the subject of sustainability, and will choose an elective on a subject in this year to support your learning. In addition, you will have the opportunity to study for one semester at a university overseas.
Year Four: In Year Four you will complete a dissertation in an area of your choice and engage with current topics in hospitality, tourism and events. Attention will be accorded to an evaluation of contemporary issues such as accessibility within a hospitality, tourism and events context. There will also be an emphasis on the strategic issues and challenges within business management.
Teaching, learning and assessment
You will be taught in lectures, seminars and practical workshops. Outside these timetabled sessions you will be expected to continue learning through self-study. You will be assessed by a variety of methods during each semester.
Placement
You will complete a 20-week internship in Year Two, in the UK or overseas.
Academic staff will help you prepare for this invaluable real-world experience and we will set up interviews on campus to make finding the perfect host organisation as straightforward as possible.
Several bursaries are available to help with costs.
Exchange opportunities
Yes. In Years Two or Three, you will have the opportunity to study overseas (subject to availability) for one semester. For more information, visit Exchanges and Study Abroad.
Entry requirements
Scottish Higher: Standard - BBBC, Minimum - BCCC
A Level: BCC
Irish Leaving Certificate: H2 H3 H3 H3
International Baccalaureate: 28 points
International: IELTS of 6.0 with no element lower than 5.5
Required subjects: Maths and English at Nat 5/GCSE level are preferred
Mature/Access: Visit our College Leavers and Mature Students Advice page for more information. 
We welcome applications from mature students with relevant qualifications or experience.
Direct Entry:
Year Two
HNC: HNC in a related subject with B in the graded unit
Scottish Higher: BC at Advanced Higher in relevant subjects plus BB at Higher
A Level: BBB in relevant subject
Year Three
HND in a related subject with CB in the graded unit
For details of related HNC and HND courses, visit our College Leavers and Mature Students Advice page
Careers
Whether you want to work for a major global hotel brand in Dubai, manage the success of a tourism business in Scotland, plan an event anywhere in the world or launch a start-up that will change the way the industry works, this course will give you the competence and confidence to take the challenge on and shape the future of hospitality, tourism and events.
Teaching staff, class sizes and timetables
Please note:
The modules listed here are correct at time of posting (Feb 2022) but may differ slightly to those offered in 2023. Please check back here for any updates.
The delivery of this course is subject to the terms and conditions set out in our 2023/24 Entry Terms and Conditions (Undergraduate).
Teaching staff may be subject to change.
Course Overview
Duration
3 or 4 years full-time
School
School of Arts, Social Sciences and Management
Courses You Might Also Like