10/19/2020 12:00:00 AM
All student enrolments should come from SITS and should not be added manually. Adding students manually risks their enrolment not being correct on their results transcript.
Adding an instructor to your module
If you are an instructor on a module you have the ability to add additional people and give them appropriate permissions. You will be taken to a page which shows all users who are enrolled on your course and search and filter this list to see if the user you wish to add is already enrolled.
How to add an instructor onto your module
In the course management options, under "Users and Groups", click on the Users link
To enrol a user into the course you need to click on the "Enrol User" button in the action bar and select  "Find Users to Enrol" from the drop down menu
Click on enrol user and select Find Users to enrol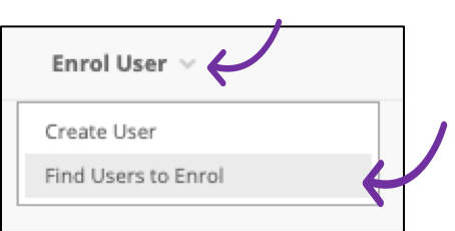 If you know the person's username you can type this directly into the username box
You can enter multiple usernames as a comma separated list in the username area
Alternatively you can search for a user by clicking on the "Browse" button
Use the search window that opens to search for users by first name, last name, or email address
Select each user that you wish to enrol onto the course
Once you have identified all users who you wish to add to the course you need to give them a role and select if you want the course to be available to them now
Add username, select role and make available

Click Submit to add your selected users to the course