Student primary teachers get serious about outdoor learning – taking the classroom into the forest
Student primary teachers get serious about outdoor learning – taking the classroom into the forest.
One positive outcome from the COVID-19 pandemic is that children and adults discovered the benefits of connecting with nature. Whilst parents were challenged by the demands of home schooling, many used the great outdoors as a healthy escape from the digital world and a platform to engage youngsters in new learning opportunities.
Although lockdown helped reinforce the benefits of outdoor life, last year, QMU was ahead of the curve when it built in outdoor learning as a key part of its new teacher education programmes, which embed a commitment to environmental sustainability at their core. Post lockdown, its education experts are even more acutely aware of the importance that outdoor learning can have on children's mental and physical wellbeing.
The University's new BA (Hons) Education Studies (Primary), which launched last year, has a contingent of highly skilled and experienced educators to equip new teachers with specialist outdoor skills, and it seems everyone wants to get involved! The students have loved immersing themselves in woodland tasks and adventures but with a serious side to skills development: this is more than a stroll in the park! Students are working towards the Forest and Outdoor Learning Award (FOLA), which is a national certificate recognised by the Forest School Association and the Scottish Credit and Qualifications Framework (SCQF). Of course, outdoor learning should be fun, so apart from participating in the RSPB Great Birdwatch, students built over 100 bug hotels which were then installed at LOVE Gorgie City Farm in Edinburgh. Swapping a stuffy classroom for the chance to hone new skills in a magical ancient woodland, has opened the students' eyes to the possibilities that outdoor learning has to offer.

Tasked with enthusing students about outdoor education is former headteacher Chris Green, and Forest School Leader and former teacher, Patrick Boxall, who now lecture on QMU's BA (Hons) Education Studies (Primary).
Patrick Boxall explained:
"Many of the students had uncertainties about their own knowledge of the outdoors, so the course is helping develop their practical skills and teaching around outdoor learning. The work we did with students in the magnificent Lord Ancrum's Wood, in the grounds around Newbattle Abbey College in Midlothian, really inspired the students to develop a whole new set of skills. Their reaction to the course has been incredible and they seem to be loving every minute!"
Patrick continued:
"Our aim is to develop a new generation of primary teachers who have the skills and knowledge to help children develop as engaged, healthy and resilient citizens who will make a positive contribution to society. There are many pressures on primary schools, so we're showcasing outdoor learning in a way that schools can sustain for themselves. This will help more young people develop a love and understanding of the outdoors which they can take into adulthood."
Chris Green said:
"We are continuing to develop our outdoor learning training on the back of COVID and have been met with overwhelming enthusiasm from our new partnership organisations - the RSPB; The John Muir Trust, LOVE Gorgie Farm and Newbattle Abbey College – which are helping us upskill our trainee teachers through a range of exciting outdoor learning opportunities. We are also in discussions with the National Trust for Scotland about promoting access to outdoor spaces within the beautiful grounds of Newhailes House and Gardens in Musselburgh."
Chris concluded: "The future looks bright for outdoor learning and the timing is now right to ensure it develops as an essential component within modern education."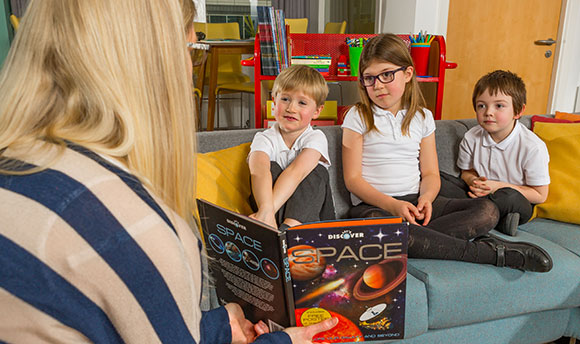 Find out more about our BA (Hons) Education Studies (Primary) Course