Maggie's Bar & Café a haven during Covid-19
By Press Office
There's much more than delicious food and good coffee on the menu at Maggie's Bar & Café on Queen Margaret University's (QMU) campus in Musselburgh.
QMU's Catering and Retail Services Manager, Julie Smith said: "Maggie's Bar and Café is a really special place and we've worked hard during the pandemic to make sure everyone who walks through the door feels safe and welcome."
"We're here to support QMU students – whether that's with access to essentials at the mini-shop or a place to study with friends – but it's really important to us that the Musselburgh community knows we're here for them too," Ms Smith said.
"One of the bright sides of this pandemic has been the opportunity we've had to connect with local charities and community groups. QMU and BaxterStorey, QMU's catering services partner, were thrilled to support Resilient Musselburgh by sharing our suppliers and Empty Kitchens, Full Hearts by cooking up some meals, and of our chefs even lent a hand at Carberry House."
"Times are tough and a lot of us are feeling a bit disconnected, but Maggie's is a place you can come to be treated to a wee bit of hospitality and normality."
"If you're working from home, why not come in with your laptop and take advantage of our heating and free WiFi for an afternoon? Our seating is carefully spaced out and we've setup a heap of tables and chairs outside with parasols to keep off the rain. Plus, we've doubled our cleaning and hygiene practices so you feel confident that we're taking every possible precaution to protect you."
"Or, if you're looking for something to do with the kids, you can pop in and get yourself some affordable snacks and go for an adventure in Queen Margaret's grounds. There are some really beautiful walks around the campus, and there's nothing nicer than a nice warm drink and a stroll among the trees on an Autumn day!"
"Most importantly, if you're looking for a friendly face and a bit of certainty amongst all this upheaval, you can count on Maggie's," Ms Smith said.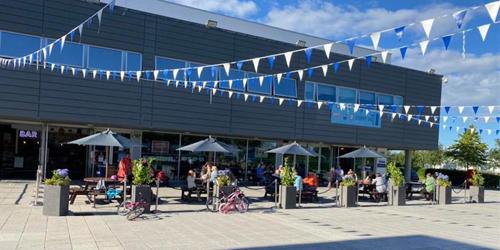 Media Enquiries
For media enquiries or to access one of our experts.
Show Contacts