Resilience
Resilience is a term referring to our ability to cope with challenges, stress and change. Evidence exists that our Resilience can be developed and enhanced, with the outcome of promoting our personal Wellbeing.
The following advice and tips are to support you in the process of enhancing your Resilience. As you focus on the different elements that contribute to our Resilience you can ultimately create your own 'toolkit' of Resilience promoting strategies.
The QMU Wellbeing Service is here to support you in promoting your resilience and ability to cope with student life.
Five ways to wellbeing which link in to resilience:
Give Learn Take notice Be active Connect 
Think about your Five Ways and ask yourself if there are any of these areas you could look at developing further. For example, giving through volunteer projects can also enhance connections. You can combine activity with social connections also as well as learning something new like a new sport or hobby.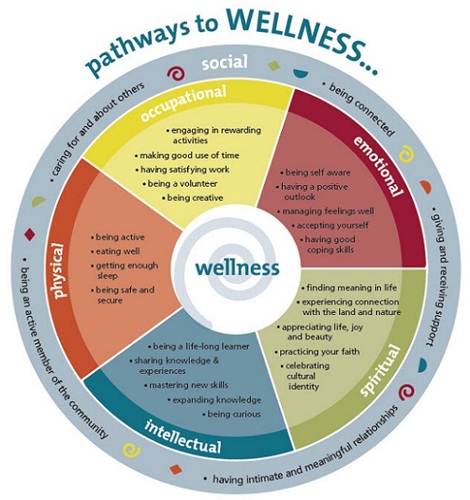 Support network
Our support network can be fundamental to how well we cope with challenges - who have you got in your circle of support? Who do you identify with as offering a supportive hand when you are in need? Do you have mutually supportive relationships?
Our intimate circle of support may include partners, family members or close friends. You may have a wider circle of support including professional services like your GP, healthcare professional or counsellor. Are there members of Queen Margaret University that you would include in your support circle? Your PAT, course leader, lecturer, members of student services like the Wellbeing adviser, Careers and employability team, Disability Adviser, Counselling staff, or Funding adviser? Members of the student union, RES-LIFE team, student friends, society members or interest groups?
Are there community charities or agencies that you have used or would turn to for advice or support?
Can you think of ways you can widen and increase your support network? Can you reach out and ask for help when you need it?
Developing resilience
The process of resilience starts with seeing diversity as a challenge and a part of life - an opportunity to learn about yourself and gain strengths.
Student life can exacerbate and contribute to us feeling overwhelmed, anxious and stressed. However, if we apply our approach of resilience to these challenges we face we can turn the negatives into positives. This may occur over time and require hard work, patience and support from others but the outcome can be fulfilling and nourishing.
Resilience is not a personality trait, but something you can practice, develop and enhance.
An opportunity for self growth, learning, development - within this process do access support, ask for help, reflect, recharge, gain strength and wisdom.
This process includes an important base of self love and nurture. Practice self compassion and nurturing activities - these could include mindful practices, exercise, engaging with nature, hobbies like drawing, playing music and creativity.
Engage with activities that bring you joy, fulfilment, gratitude and ultimately nourish you.
Remaining positive and hopeful can help to move us forwards with a positive mindset of being able to overcome challenges, manage change and develop our inner resourcefulness.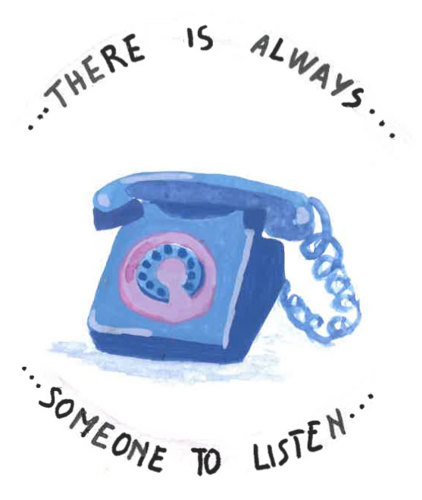 Telephone artwork by QMU student Adriana Baraldi
Tips
Identify your coping strategies What works for you? Learn from the past what worked and what didn't
Change your responses Reflect and try a different approach to a situation
What support networks do you have? Ask for help, seek support
Plan how to cope with future challenging situations or events, prepare your response
What strategies of self-help do you practice? What can you develop?
Do you look after yourself? Physically and mentally? Can you introduce daily small activities that will promote your wellbeing? Can you get help with any of these?
Look at how far you have come Remain positive and kind to yourself. You are not alone. If you are struggling, reach out for support.
Podcasts
Podcast 

Info

Happy Place

Various interviews with guests from Fearne Cotton around the theme of Mental Health and Wellbeing

 

Mentally Yours

Various podcasts focussing on how to 'survive and thrive', including a podcast on 'anxiety and coronavirus', 'kindness and mental health', 'bipolar disorder' and 'gardening therapy' to name a few.

 

The Science of Resilience

Sian Williams explores the science of resilience on BBC Sounds.

 

Mindfulness Practice

A 10-minute mindfulness exercise from the Mental Health Foundation

 

Don't Tell Me the Score

Adam Gemili interviews different sporting individuals about what they have learned in their lives and how to best live it