NB Application for September 2023 entry is now closed. Application for September 2024 entry will open at the start of October 2023. 
Music Therapy - MSc
Are you a musician with experience of working with people in a caring profession, such as health, education, social services or the voluntary sector.? If so, why not consider a new career in music therapy: an established health intervention to help people whose lives have been affected by injury, illness or disability.
This long established MSc in Music Therapy at QMU is the only music therapy course in Scotland. It offers stimulating and varied learning experiences, including practice placements in various settings that are vital to your learning.
The course is the first step to a new, exciting and rewarding career. It will qualify you to register with the Health & Care Professions Council (HCPC) and work as a music therapist in only two years.
Why QMU?
Stimulating learning environment: The course is based in our School of Health Sciences and offers a stimulating learning environment with a practical focus. Your learning will be enriched by the interdisciplinary structure of the course as you study alongside your peers from various other pathways within QMU's Person-Centred Practice Framework, including the MSc Art Psychotherapy and MSc Dramatherapy.
Practice-based experience: You'll benefit from opportunities to work in a variety of settings.
Professional accreditation/registration: Students are advised to join The British Association for Music Therapy (BAMT) and graduates are eligible for registration with the Health & Care Professions Council

as Registered Arts Therapists (Music).
Staff expertise and experience: The team are all active researchers and practising music therapists, as well as music therapy educators.
Collaborate with learners in Greece: There are opportunities to collaborate with learners following the same course at Metropolitan College, Athens, Greece. 
Music Therapy (MSc): More information and what you will achieve
On this course you will learn about a variety of approaches to music therapy. With a strong emphasis on psychodynamic theory, you will be equipped to work in a person-centred way with people with a wide range of needs.
Studies will focus on the following areas:
therapeutic musical skills, with an emphasis on improvisation, interaction and application in a therapeutic context
psychological, developmental, and music therapy theories
different persons and contexts
self-development
observation and critical thinking skills
professional issues, such as ethics and multi-disciplinary working
research, assessment and service evaluation
Before embarking on the course, we would recommend some texts to read, as follows:
Music Therapy
Rachel Darnley-Smith and Helen M. Patey (Sage, 2003)
Music Therapy: An Art Beyond Words
Leslie Bunt and Brynjulf Stige (Routledge, 2014)
Relational Music Therapy: An Intersubjective
Perspective
Gro Trondalen (Barcelona Publishers, 2016)
Intimate Notes
Mercedes Pavlicevic (Jessica Kingsley Publishers, 1999)
Music Therapy: A Perspective from the
Humanities
Even Ruud (Barcelona Publishers, 2010)
An Introduction to Person-Centred Practice:
Person-Centred Practice in Nursing and Health
care; Theory and Practice
Eds. Brendan McCormack and Tanya McCance
(Wiley Blackwell, 2017)
These texts offer an introduction to critical
theory and intersectionality:

Disability andOother Human Questions
Dan Goodley (Society Now, 2021)
Learning from my Daughter
Eva Kittay (Oxford University Press, 2019)
The Race Conversation
Eugene Ellis (Confer, 2021)
Intersectionality in the Arts Therapies
Eds. Jessica Collier and Corrina Eastwood (Jessica
Kingsley Publishers, 2022)
The following titles introduce psychodynamic
theory and thinking:
Communicative Musicality: Exploring the Basis of
Human Companionship
Stephen Malloch and Colwyn Trevarthen, Editors
(Oxford University Press, 2009)
Forms of Vitality: Exploring Dynamic Experience
in Psychology, the Arts, Psychotherapy and
Development
Daniel Stern (Oxford University Press, 2010)
Practitioner Research in Counselling and
Psychotherapy: The Power of Examples
Eds. Liz Bondi and Judith Fewell (MacMillan
Education, 2016)
Mentalizing in Arts Therapies
Marianne Verfaille (Routledge 2018)
This text is useful for those new to or returning
to academic study:
How to Fix your Academic Writing Trouble
Inger Mewburn, Katherine Firth and Shaun
Lehmann (Open International Publishing, 2019)
This free Open University course introduces
master's level academic study:
https://www.open.edu/openlearn/educationdevelopment/succeeding-postgraduatestudy/content-section-overview?activetab=description-tab
These online journals are open access and offer
a varied source of up-to-date research, practice
and thinking in music therapy and broader
interdisciplinary contexts:
Approaches: An Interdisciplinary Journal of Music
Therapy 
Australian Music Therapy Journal

Dialogues in Music Therapy Education
How will I be taught?
Structure and exit awards
You must complete the full MSc (240 credits) to be eligible to register with the Health & Care Professions Council and to work as a music therapist. You can exit at different points but single module study is not available.
Teaching, learning and assessment
Teaching includes practical and academic elements with an emphasis on experiential and interpersonal learning and teaching methods, including lectures, seminars and tutorials. Practice education is supported by regular supervision at QMU. Students are not required to cover the cost for supervision at University or on placement.
Assessments are varied and include practical and written formats as well as short video, poster and case work presentations. Personal development is fundamental to therapeutic training and it is a requirement of the HCPC that students attend regular personal psychotherapy throughout the course, with a minimum of 40 hours of attendance. Personal therapy is not assessed and students are required to cover the cost. Independent study is in addition to this, as well as days specifically for practice-based learning: one day/week in year one and two days/ week in year two.
Placements (Practice education)
Practice-based learning is ongoing throughout the course. In Year One, practice education is usually with a music therapist, one day per week from October to March. In Year Two, you attend practice education two days per week throughout both semesters and work in a more autonomous way.
The range of practice placements are extensive including placements within hospitals, schools, voluntary sector organisations, child and family centres, drug and alcohol services, hospices, community based health centres, community based mental health teams, day centres for the elderly and for adults with physical and/or learning disabilities. The range of practice placements for Music Therapy students changes from year to year.
Practice-based learning can also be arranged further afield if students choose to commute; the course has excellent partnerships with practice education providers across the UK, Ireland and Gibraltar. Students do not need to find their own placements: practice placements are organised by the Professional Practice Tutor at QMU.
Teaching hours and attendance
Each module requires attendance of classes at QMU: typically, Year One students attend QMU on Tuesdays and Wednesdays and in Year Two, classes are on a Thursday. Practice placement days and independent study are in addition to this.
Class sizes
There are (maximum) 25 places for each cohort. 
Teaching staff
You can read more about the teaching staff on this course at the bottom of this page. Please note that teaching staff is subject to change.
Modules
The MSc Music Therapy course sits together with Art Psychotherapy, Dramatherapy and Play Therapy as an arts therapies pathway within the Person-Centred Practice Framework at QMU. The courses contains the modules listed below.
Year One
Practice-based Learning 1 (40 credits)
Developmental and Relational Perspectives (20 credits)
Therapeutic Practice and Resources (20 credits)
Theory and Practice of Person-Centred Health and Wellbeing (20 credits)
Leading Person-Centred Practice for Health and Wellbeing (20 credits)
Year Two
Practice-based Learning 2 (40 credits)
Arts Therapies in Context (20 credits)
Dissertation (60 credits)
NB The modules and placements listed are correct at time of posting (October 2022). In the event that modules change, QMU will seek to use reasonable endeavours to ensure that there is no detrimental impact on students. Please check our website for updates.
Career opportunities
Music therapists work throughout the health, education and community sectors. Most graduates have found employment within care homes, schools, the NHS and charities. Many others have become successful freelance practitioners. There is a strong alumni community and graduates contribute to the course in various ways.
Music Therapy (MSc): Entry requirements and application information
Entry requirements
The course is academically, musically and personally demanding so it is necessary that you are able to demonstrate your readiness for the course as well as meet the entry requirements.
Applicants usually have an honours degree however, a comparable professional qualification, or extensive experience in a related field will be considered.
This is alongside evidence of a high standard of practical musicianship, a fundamental ability to listen openly and fluency in a diverse range of musics. You should be able to demonstrate a high degree of skill and flexibility on at least one instrument. You do not need to be able to read Western musical notation. We are committed to enabling and widening access for musicians from diverse backgrounds.
You will also have a minimum of one year's experience of relevant work experience with persons in the community, education or health settings. Some experience of personal music therapy or psychodynamic psychotherapy, or experiential workshops in creative therapies is desirable.
International: You will be required to provide evidence of English language competence at no less than IELTS 7.0, and with no individual component score less than 6.5.
Other requirements
You will be required to produce a personal statement. Your personal statement should include the reasons you feel drawn to the profession of music therapy at this stage in your life and why the particular approach taught at QMU appeals to you. Please include an outline of any texts you have read in preparation for this course. We would also like to hear about your own relationship with music and how this has shaped your decision to apply. In addition, please detail any relevant experience within caring professions, which does not need to be music related, and highlight particular qualities you feel you would bring to the course.
Applicants will be asked to attend interview and audition (see below).
A satisfactory criminal records check from the Protection of Vulnerable Groups (PVG) Scheme, an occupational health check and personal indemnity insurance (normally through membership of the professional body) are required.
The application process
You are asked to include several documents with your application and must include a personal statement following these guidelines above. Applications are reviewed by members of the course team and you will either be sent feedback at that stage or offered an interview and audition.
About the audition and interview
The audition usually includes a group improvisation with other applicants and an individual audition. The audition is your chance to demonstrate your breadth of musicianship: 
Please prepare a short piece on two different instruments (or two contrasting pieces if you are playing one instrument)
If you don't use your voice in these pieces, you are also required to sing a short song
Please be ready to improvise as directed on the day
We would recommend you bring your own instrument for the audition but larger instruments such as a clarsach, a piano, drum kit and guitars are available to play. Please email the Music Therapy team for any other queries.
The interview aims to assess your personal suitability for the profession, your ability to reflect and readiness for the demands that the course entails. Members of the course team will be interested in talking to you about your personal statement.  
When the interview and audition is conducted online, you will be asked to prepare for the audition and interview in the same way, but there is no group component.
Applicants are advised of the outcome of their interview via the Admissions team within a few days.
Other information
The cost of the PVG check (£18 or £59 depending on the level of clearance required*) and the professional indemnity insurance are the responsibility of the student. Currently the cost of the health check is funded by the Scottish Government for Scottish students only and other students are responsible for this cost. This is however subject to change should the Scottish Government change their funding policy.
The additional costs associated with placement travel and accommodation are the responsibility of the student. 
*Please note that cost is subject to change.
Applying for this course
For more information on applying, or to apply for this course, please follow the links in the 'Start your application' box at the top right of this page.
Application deadline
The application deadline for this course is the 18th of August 2023.
Terms and Conditions
The delivery of this course is subject to the terms and conditions set out in our 2023/24 Entry - Terms and Conditions (Postgraduate).
More information and contacts
Opportunities to meet us
FAQs
Does QMU have Open Days?
Yes. These may be on campus or online and are your opportunity to speak to meet with lecturers and current students from the MSc Music Therapy. Please check the Postgraduate Open Days page on the QMU website for forthcoming dates or follow @QMUMusicTherapy for notifications via Twitter.
How do I apply?
Applications are made online. Please click the 'Apply to this course' button on the top right of this page.
When should I apply?
Applications can be made from October of each year for the following September. Applicants are advised to apply as soon as possible and before the 1st May, although late applicants will be considered. Places fill up on a first come first served basis. If your application is successful, and the course is full, you will be offered a place on a waiting list.
When are interviews?
If your application is successful, you will be invited to interview at the University. They normally take place between January and June. For more information, contact: admissions@qmu.ac.uk 
What is the mode of attendance?
There are two fifteen-week semesters in each year: September – December; January – May.
In Year One students attend two days at University (Tuesday and Wednesday) and one day (any other day, Mon-Fri) each week on practice placement.
In Year Two students attend one day at University (Thursday) and two days each week on practice placement (any other days, Mon-Fri).
Can I work at the same time?
Although attendance at University and practice placement is part-time (3 days/ week in each year) the course is full-time so you are required to make up the hours for independent study (equivalent to 2 days/ week).
Can I do the course by distance-learning?
Some aspects of the course can be studied online and there is much self-directed study. However, attendance at University is compulsory due to the necessity of interpersonal and experiential components.
Is there a part-time route to MSc Music Therapy?
There is no part-time route at the moment. It is offered as a full-time 2-year, fast-track pre-registration (HCPC) course.
Who organises practice placements?
Practice Placements are arranged and allocated by the Professional Practice Tutor at QMU. Students are not expected to find their own placements. Before Year One and Two, students are invited to complete a form to indicate choice, previous experience and address during Semesters. Wherever possible, practice placements are arranged in, or near to, the city where the student lives but this is also balanced by each student's learning needs and preferences, which are all taken into consideration.
Are all the practice placements in Scotland?
We have approved placement sites in Edinburgh, Glasgow, Stirling, Aberdeen and many other areas in Scotland, but also in England, Northern Ireland and Ireland. Students are placed in a site that we consider will offer the best learning experience. Our good links with managers at various practice placement settings around the UK and Ireland mean that we can aim to offer all students a placement that makes sense geographically.
What kinds of practice placements are offered?
The range of practice placements are extensive including placements within hospitals, schools, voluntary sector organisations, child and family centres, drug and alcohol services, hospices, community based health centres, community based mental health teams, day centres for the elderly and for adults with physical and/or learning disabilities. The range of practice placements for Music Therapy students changes from year to year.
Who supervises practice placement?
In Year One, all students are usually supervised by a music therapist who works on-site. In Year Two, students have the opportunity to work more autonomously and often in a setting where there has previously been no Music Therapy. They are supervised by another professional who works in the setting.
All students receive regular clinical supervision at University in small groups and attendance to these is a co-requisite of practice placement.
When should I start personal psychotherapy?
Students are required to attend personal psychodynamic psychotherapy for the duration of the MSc Music Therapy course (as all HCPC registered courses in the UK) and to show evidence of at least 40 hours throughout the 2-year course. Responsibility for finding a therapist rests with the student and ideally should be in place for the start of the course.
In general students are advised to work with a therapist whose orientation is compatible with the psychodynamic orientation of the course, with a minimum of 5 years' experience, and registered with UKCP or BACP. Further details are given when students matriculate.
What are the course fees? 
See the Fees and Funding button on the course website for fees and updated information on possible student funding.
Are there any other costs?
All students are required to have occupational health checks before beginning the first practice placement and this is a one-off payment.  
Are there grants, trusts or scholarships for the course ?
There are no grants available but international students can apply for a QMU scholarship. Some students have sought funding from other sources by consulting information on Education Awards in their local library. Other students have obtained a Career Development Loan from their bank, or received part funding from their employers.
Do full fees need to be paid at the outset of the academic year?
No, there are other options. See the QMU website for further details.  
What sort of tutorial support is available to students? 
Each student on the course has a Personal Academic Tutor (PAT). The role of the Personal Academic Tutor is to help students integrate the different parts of the course, review their work and be aware of any circumstances affecting the student's learning on the course. Students meet with their Personal Academic Tutor at least once each semester.
Is there support within University for students with disabilities?
A member of the course team is an academic disability student coordinator and will meet with students to discuss requirements and offer advice in liaison with the academic disability services.
Is there help with writing?
The team within the Effective Learning Services at QMU offer workshops for all students and on every aspect of academic study, including essay preparation. Tutorials are also offered for students whose first language is not English. 
What support is offered to international students before the course begins?
We recommend the pre-sessional programmes to all applicants whose first language is not English. These are FREE and a run as a 4 week block from mid-August up to induction week.
How many students are in each cohort?
There are up to 25 students in each cohort however workshops, supervision and tutorials are in small groups.
Do most students find employment after they graduate?
Our graduates have a high level of employment with some students creating a post from their practice placement in Year Two. 
Employment opportunities vary, with some regions of the UK offering more employment possibilities for qualified music therapists than others.
Students are offered classes with the Careers Adviser for the School of Health Sciences, to help explore careers options and think about how to approach employment upon graduation, including mock interviews. Students are encouraged to make the most of their local networks, which in turn promote employment.
What are the research interests of the staff?
Please see the staff member's details on the website.
How do I find out more about Music Therapy?
Join British Association for Music Therapy. Go to bamt.org or follow @musictherapyuk on Twitter
Come along to an event hosted by the Scottish Music Therapy Trust. See smtt.org.uk
Sign up to receive emails: smtt@hotmail.org.uk or follow @scottishmttrust on Twitter
Interview with Ann Lee
Become your best you: study at QMU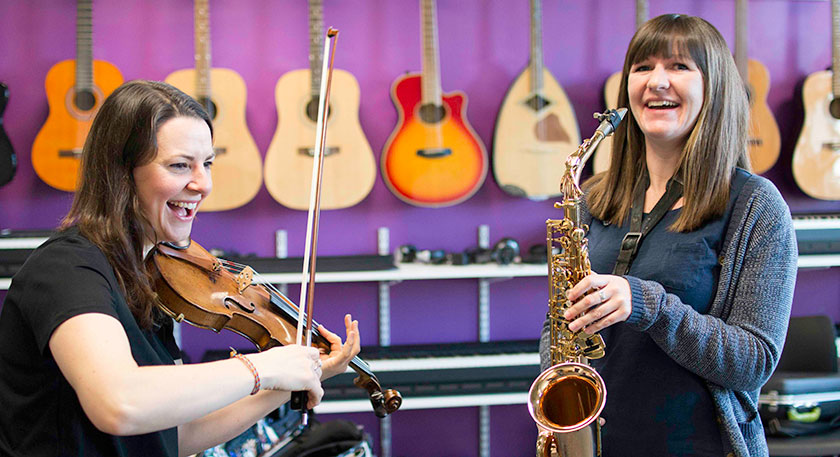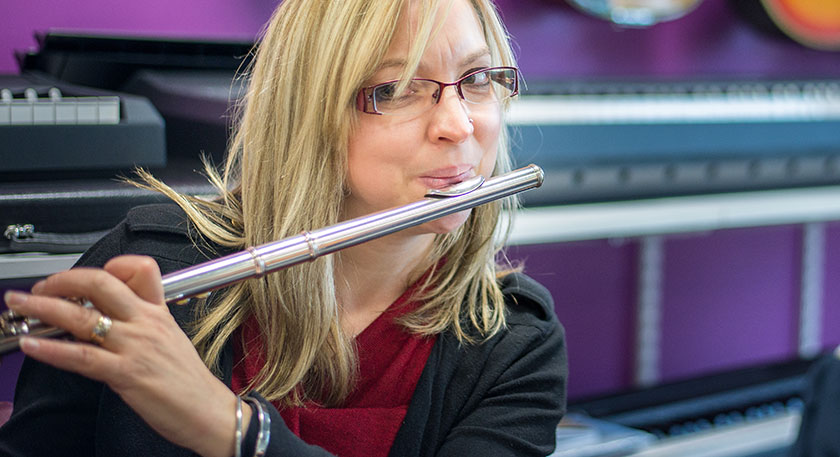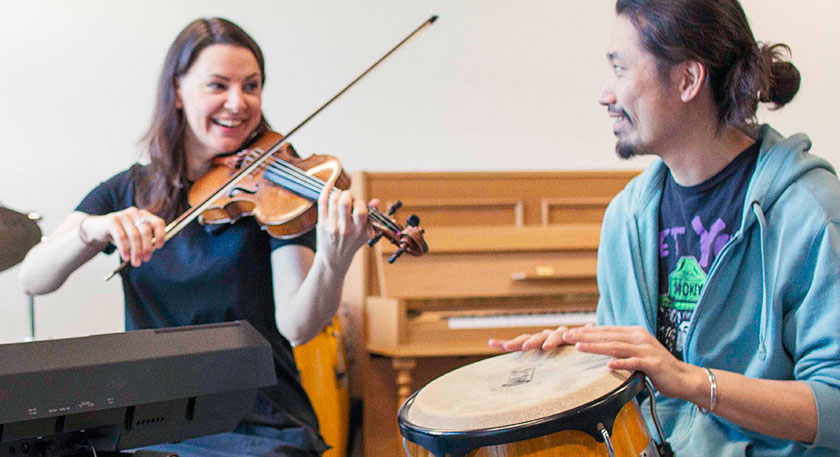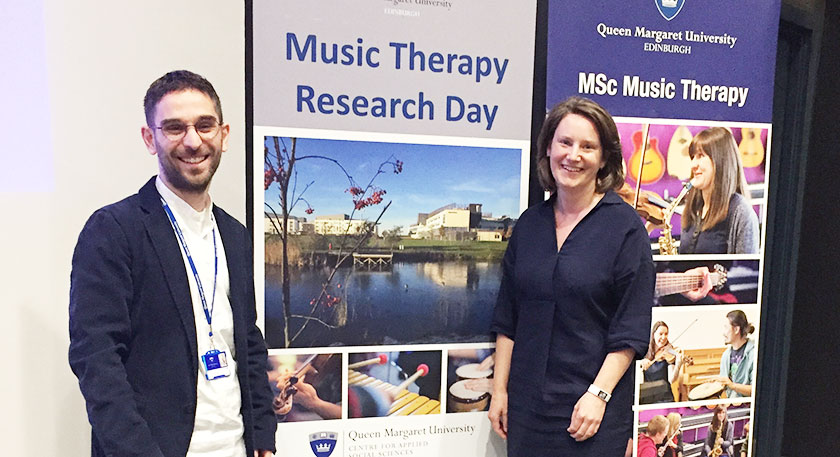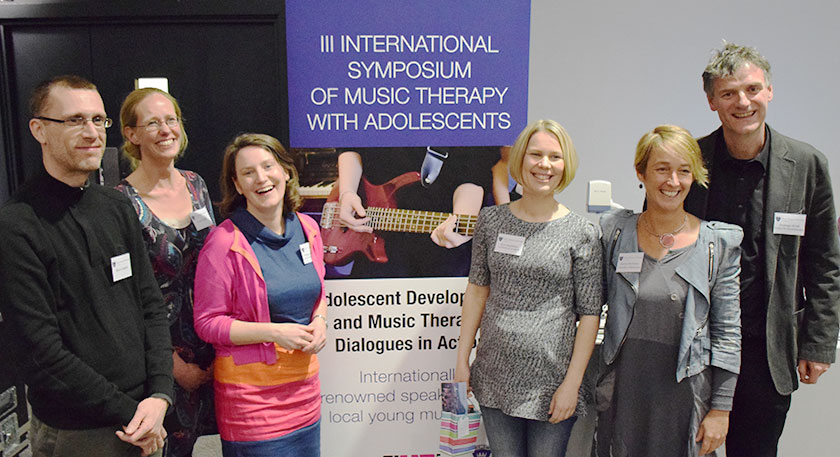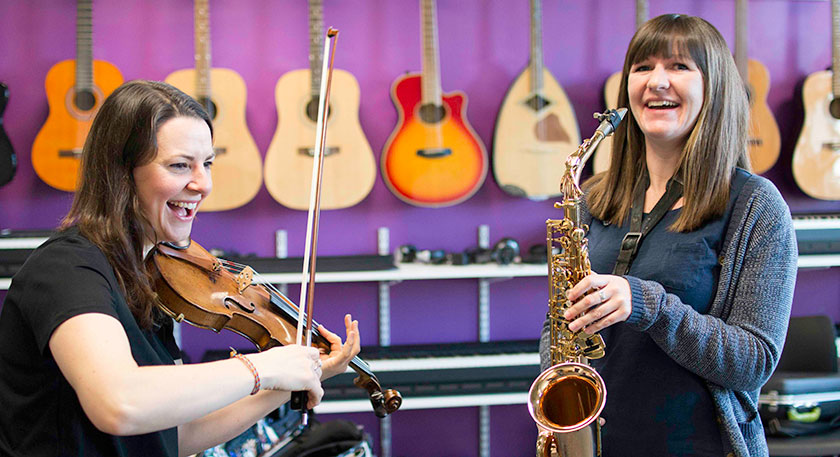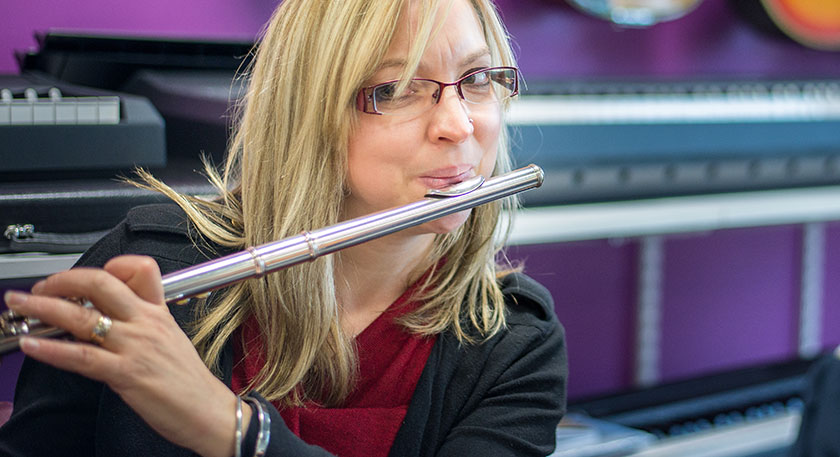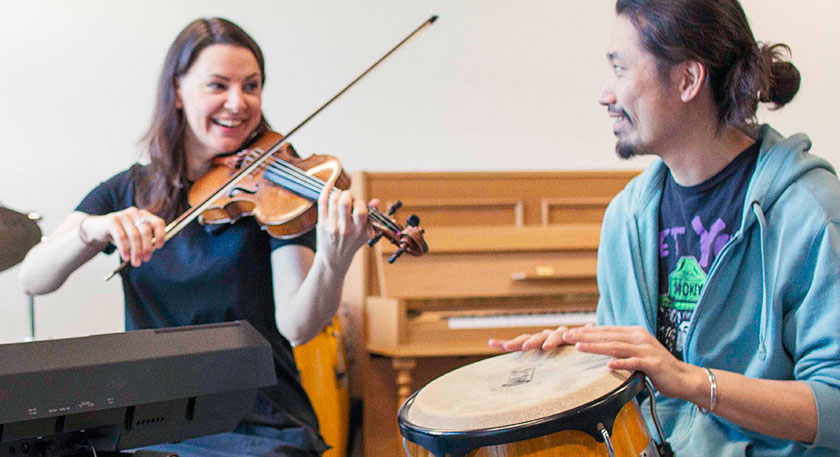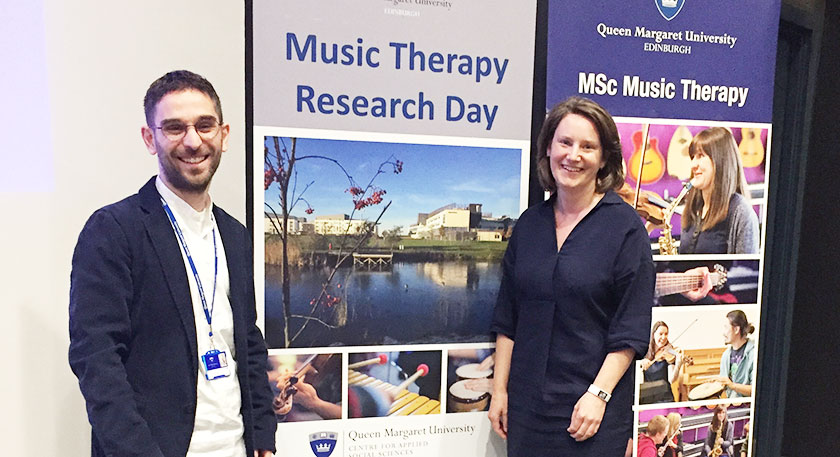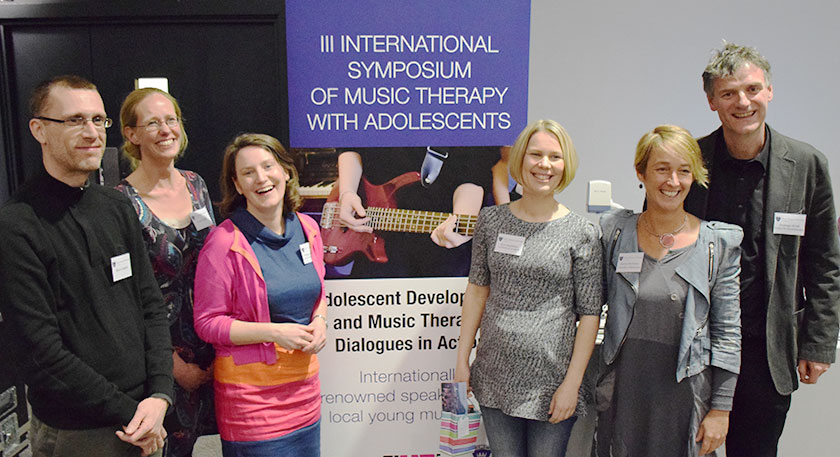 Start Your Application
Course Overview
Delivery
On campus at QMU, online and with practice-based learning settings
Duration
2 years full-time
School
School of Health Sciences
A Student Story
Shuying Hu - MSc Music Therapy
".... I feel that the combination of practice placements, alongside lectures and practical music workshops, allow for quite a well-rounded education and prepares me for employment right after graduation."
Read my story
Join us at one of our Postgraduate Open Events 2023
16 or 23 November 2023
We offer a number of online and in-person opportunities to meet with us to find out more about our postgraduate courses and study at QMU. 
Postgraduate Open Events - Book Now
Courses You Might Also Like