Silviya Sotirova – Film & Media – Level 3
Malmo University, Sweden
THE EXCITING EXPERIENCE OF BEING AN EXCHANGE STUDENT IN SWEDEN
Spending a semester in Sweden was an extremely exciting experience which I'll certainly never forget and only wish it had lasted a bit longer. Going on exchange was on my to-do list before getting admitted to university, so I was very thrilled to find out that QMU offers its students the great opportunity to become participants of an Exchange program and never hesitated to take the chance.
To be honest, it is a bit hard to find the right words to describe the whole spectrum of feelings, emotions and thoughts such an experience brought into my life. I can't deny that at first I was slightly frightened, it was my first time to visit Sweden and I wasn't sure what to expect. I've only heard of its high standard of living and the typical for many Swedish people blonde hair, blue eyes and open-mindedness. A friend of me was doing a course at Malmö University and after finding out it was a QMU's partner, I contacted her to seek some advice and was strongly recommended to apply.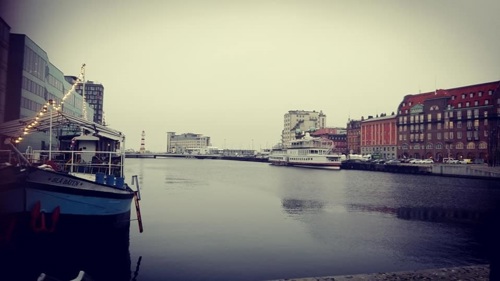 When I got officially admitted, I was contacted by a "help buddy" from Malmö University who answered all my questions and gave me detailed instructions on how to get to university from the airport. It was a bit confusing, because Malmö University consists of a few buildings, so my help buddy came all the way to meet me at the bus stop.
Finding out that I'll be sharing a kitchen and common areas with 25 more international students, I experienced a feeling of uneasiness. Given that I've never lived with more than five people, I couldn't quite imagine what it would be like. The adaptation process took some time and was a bit stressful. However, during the induction week we all got the chance to participate in a numerous entertaining activities and got to know each other better. My flatmates were all coming from different parts of the world – Australia, New Zealand, Canada, USA, Indonesia, Spain, Italy, Germany, Austria, France, Turkey, Russia, etc. – and they all had different mentality, habits and lifestyle, but their kind and friendly attitude as well as their willingness to explore our new destination and have fun made it pretty easy to get along and become friends. We were all on the same wavelength.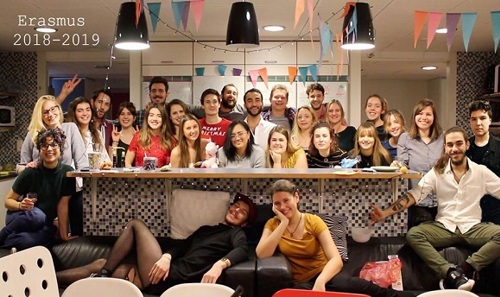 Yes, the kitchen was a complete mess at times and yes, that unavoidably led to insignificant arguments, but the amazing memories we made together is what I remember and only matters to me now. Describing even the half of these would take hours – going to the beach, making short trips to Copenhagen and other close destinations, cooking traditional meals, playing games, watching movies together etc. The most touching and my favorite one was our Christmas dinner when the semester was almost over and everyone was getting ready to fly back to their country. We all cooked traditional meals, made some mulled wine, danced, laughed and cried that we had to part so soon.
My course at university was quite enjoyable as well and I was introduced to a new approach of studying. I was doing Storytelling: Narration across Media which was split into six parts: Literature, Film, Audio, Comics, Gaming, and Storytelling. Unlike QMU, we had our modules one after another and we were fully focused on just one module at a time. We had to work on various exciting projects either individually or as a team. We had to make short films using a different approach, create interactive games or record audio for parts of already existing films. Our lecturers were all Swedish – very nice and always willing to help, but also quite demanding about the completion of our tasks.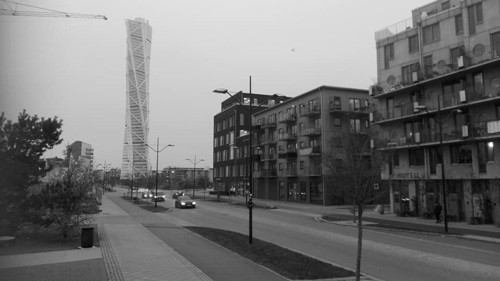 Most of the students were going to university by bike (getting a bike is very recommendable in Sweden). Similarly to QMU, I did spend much time in the library, researching and getting my tasks for the next class done. Along with my course, I was taking a free Swedish course. Sadly, I didn't go too far there (I passed my A1 exam with A and that was it), but anyway, I learned a few useful phrases and it was just one more way to socialize and make friends.
In short, there were so many opportunities and exciting moments in Sweden that I couldn't hold back my tears when the semester was over and I had to part with my pals or rather "the international family from the 8th floor of the Student House". I did meet some difficulties on the way, but most of the fears I had before getting there and at the beginning were not justified and that was an experience of a lifetime!
Sadly, my phone got lost and as a result I lost most of the photos I've taken, but here's a few of Malmö and all the people I used to live with in the Student House: