Ondřej Horak – PR, Marketing & Events – Level 3
Saxion University of Applied Sciences, Netherlands
Welkom in Nederland! / Welcome to the Netherlands!
My name is Ondřej, I am a 3rd-year student of PR, Marketing, and Events at QMU, and I have spent half a year studying at the Saxion University in the Netherlands. My experience has been fantastic, beyond just a few words! I have met a lot of interesting people, explored bigger and smaller places and even participated in a research project in Africa, all of this because of my ERASMUS+ exchange!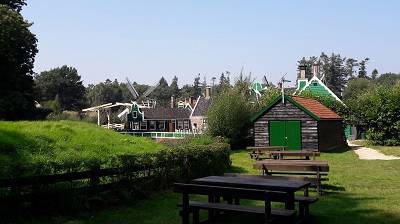 My choice
I have made the decision to study abroad quite early, three years ago actually, when I first came to Scotland. And because it was one of the greatest decision of my life, another opportunity of abroad study was on my to-do list! For those who come from the UK and never made the decision to study abroad I have one thing to say: "Do not hesitate and go! ". Many institutions which cooperate with QMU offer various courses thought fully in English and if you worry about losing touch with friends, then think how many new interesting people you´d lose out meeting… And what more, EU gives you a decent support through grant if you join any of the ERASMUS+ programmes.
So why the Netherlands? It is not only about the famous Red Light district, coffee shops, and fields of tulips. Instead, the likable laid-back culture, very international atmosphere, and the fact it only takes over an hour to fly there were the main factors which helped me to make that decision. The Saxion University in Deventer is a very modern institution with various courses in Business and Hospitality. The university puts a lot of effort to make its students feel comfortable. Recently, the university broke down the barriers between academic staff and its students by introducing shared spaces for all instead of separating staff quarters from study rooms. A little gesture, but makes a huge difference.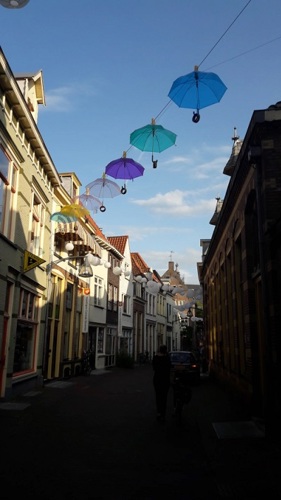 Arrival and First Steps
Dutch universities have four quarters instead of two semesters and start relatively early, at the end of August. Nevertheless, the welcome is spectacular! The Saxion University organises the so-called "HOI week", which is the Dutch version of Freshers. And they go far lengths in ensuring the fun atmosphere of the event. An evening with tap beer and 300+ Domino´s Pizzas, inflatable obstacle run at the main square, or an outdoor staged concert with a line-up of popular Dutch singers?  All this is possible at Saxion.
Although as an exchange student to the Netherlands, you have to complete some formalities upon your arrival, such as registration of residence at the town hall, or getting your Dutch bank account, the first weeks are far from boredom. Deventer is a relatively small town with approximately 90.000 inhabitants, but the amount of takeaways, cafes and other social places is astonishing! The only downside is that there is only one student nightclub in Deventer which hosts parties almost daily, De Tijd (The Time). It is still worth going at times!
The Saxion University extends the welcome of the HOI week by teaming up with students. There is always one student, who is buddied up with all inbound exchange students and helps them in all sort of things! In 2017/18 this student was Sean, who showed us around and was always able to assist throughout my exchange!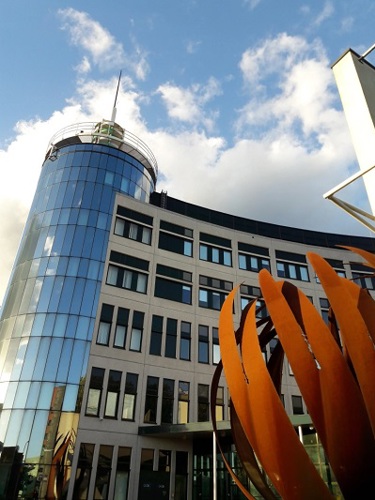 My Study
As I mentioned previously, the Saxion University of Applied Science is a very modern university which offers courses fully though it English in the areas of Business and Hospitality. Therefore, the options for exchange students are relatively broad. The university is also dedicated to providing students with hands-on experience and many modules incorporate real projects in partnerships with local organizations. In many ways, the curriculum is similar to the one at Queen Margaret University, with the exception of so-called Minors. These are compulsory to local students when instead of standard modules, students work on bigger projects in their specific area for the duration of one semester. The aim is to enable students to gain an understanding of their area of study from new practical perspectives. Whilst on my exchange, I have decided to join an Expedition Minor to Kenya, when my project group went on a two-week-long expedition to the Amboseli Area in Kenya to conduct a research into the lives of an indigenous tribe of Maasai people.
The project, led by lecturer Bastienne Bernasco, focused on emphasising methods to gain an understanding of real needs of end-user groups in the Amboseli Area in order to develop a suitable service proposal serving those needs identified. In short, the project brought us in touch with various groups of people, such as the local market sellers, the wildlife rangers, local villagers, pupils of the primary school, a priest in local church, souvenir sellers, local business owners, and employees of local leisure facilities. On our adventurous expedition many participants, including myself, were challenged by the environment and gained otherwise unreachable insights. Although it is not common for exchange students to join Minors, I would certainly recommend taking it into consideration. It is a unique combination of applying knowledge learnt in lectures in an interactive and engaging way.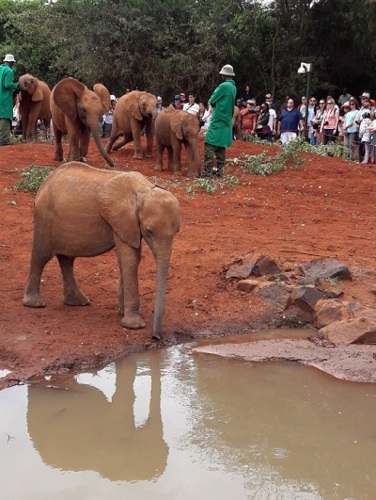 Deventer is a medieval town with rich history. In the first two months from arrival, the weather in the Netherlands was still relatively warm and, therefore, I could enjoy outdoor activities, such as picnicking in local parks, having a cold drink with friends by the river bank, or getting a horse and carriage city tour. Nevertheless, even in the colder months, Deventer does have a lot to offer. Bargain shopping and tastings at the Farmer Markets on Saturdays, exhaustive visit to the modern multi-purpose sports venue The Scheg, exploring the ice cream menu in one of the biggest ice-cream parlours in Europe or catching up with the newest released movies in local VUE cinema. Moreover, some venues in Deventer also organize pop-up events such as music festivals, live DJ gigs, or the famous Charles Dickens Festival.
Deventer may be a small town, nevertheless travel to nearby cities, such as Amsterdam, The Hague, Utrecht, or Groningen is very easy. The rail connection in the country is very strong and needless to say, the Netherlands is not a very big country, therefore travel from A to B mostly takes no longer than 1-2 hours. A weekend getaway to explore the Netherlands can be very refreshing. Moreover, Deventer lays near borders with Germany, which is another must-visit destination.
As students at Saxion University come from all parts of the world, it is for certain you will meet people to spend time with and if you are not exactly an extrovert personality, the university may help you to get to know people. Although Saxion does not have an office of the ESN (Erasmus Student Network), the International Office organises several events for the international students every year. For instance International Cuisine Evenings, when a group of international students hosts each other when the host at the time cooks some traditional food from their home country. Another example in the annual trip to Münster Christmas Market in Germany, when a transport is organised for a symbolical contribution.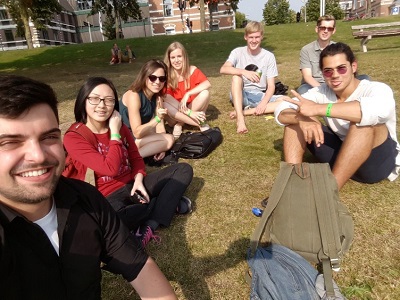 Final word
My exchange experience at the Saxion University of Applied Science was outstanding! I have started with exploring the city and its many hidden gems, thereafter I made several roundtrips in the Netherlands with my friends and enjoyed the spirit of Dutch culture, finally, I also travelled outside the country as far as to Kenya to take part in a research as part of my study. I have also met some unforgettable people on the way, some of which I think of as my close friends now. None of this would be possible if I have not decided to leave, once again, and make a step into the unknown. It was much worth it!