Kerry, Susie, and Kerry's Short Exchange
Metropolitan University College, Denmark
Occupational therapy students from Queen Margaret University (QMU), Edinburgh were invited to apply for a one-week study opportunity in Copenhagen at the Københavns Professionshøjskole.  Erasmus + experiences are already established between the two organisations, and this experience was a supplementary opportunity.  The collaboration between QMU and Københavns Professionshøjskole provided a platform to converse with professionals working in the university and clinical settings, as well as other international health and social care students.
This experience was designed to allow QMU students to gain an international perspective on the occupational therapy degree programme and obtain a knowledge and respect for intercultural and international aspects of occupational therapy work.
The successful applicants Kerry Lockerbie, Susie Jamieson and Kerry Laurie were able to visit health sites, tour the university, engage with other health and social care students, and experience Copenhagen's culture.
The programme was planned by the international co-ordinator and lecturer in occupational therapy in Copenhagen, Betina Rasmussen and occupational therapy staff at QMU.  The week involved two days at the Metropolitan University College and two days shadowing an occupational therapist at Hvidovre Hospital.
On the first day, Betina met us at Københavns Professionshøjskole and immediately we were made to feel very welcome.  To help us get orientated we were given a tour of the university building and experienced firsthand some of the incredible facilities they have on campus.
One of the most interesting aspects of the campus is the 'innovation house' which was recently built within the university grounds.  These facilities are used by all health and social care students during their studies.  The space included a kitchen with impressive assistive technology including adjustable units, bedroom with weighted blankets, living area, and various sensory rooms with fibre optic lighting and sound options.
Betina gave a very informative insight into course content/placement locations, the types of roles carried about out by occupational therapists in Denmark, and the wide variety of career development opportunities.  She spoke very highly of the research that is carried out by the lecturers at Københavns Professionshøjskole, and how this has significantly impacted occupational therapy techniques in Denmark, as well as other Baltic counties.
Throughout the week we were given the opportunity to work among the occupational therapy team at Hvidovre Hospital.  Hvidovre Hospital was built between 1968 – 1979 and is located on the western side of Copenhagen. Consisting of 30 different departments and providing a service to a population of 460,000 citizens, the hospital is one of the largest in Denmark.
During our time at the hospital we separately shadowed an occupational therapist in one of the three departments; pediatrics, medical and orthopedics and were all impressed by the care and support provided.  Kerry Laurie spent time with an occupational therapist in pediatrics who has worked at Hvidovre hospital for over ten years and learned about an ongoing research project.  The study follows children who have been born prematurely up until the age of 10 years old.  Assessments are carried out at certain milestone stages and developmental difficulties can be identified, assessed and managed.  This gave Kerry a fantastic overview of how occupational therapy can add real value in a pediatric setting.
More generally the lifestyle in Copenhagen made us consider long-term goals for service users regarding not only reacting to illness or injury but with a greater emphasis on prevention. This was evident during our visits to Hvidovre Hospital where the equipment and facilities was top class and plentiful. The hospital created a real focus on a meaningful healthy lifestyle.  For example, people who entered the hand therapy clinic were motivated to practise techniques and wear splints so that they were able to return to activities such as swimming, cycling and going to the gym.
Denmark has one of the highest tax rates in the world (Wiking 2016a) but most Danish citizens believe that they are contributing to a welfare system which turns "wealth into wellbeing". The principles behind the health care system are to promote health for all and prevent illness.  It is a universal system where everyone has equal access to facilities. Although taxation in Denmark is high, it funds a good standard of service to the Danish population.  This will be vital as like many other countries, Denmark faces the constant pressures of an aging population, and the current level of service may not be sustainable.  We reflected that preventing hospital admissions would not only be beneficial to the service users but also the sustainability of the health service.
During our visit we also took part in various international students' week activities at the university.  65 students from different countries including Germany, Norway, Spain, Iceland, Italy, Vietnam and of course Scotland, began the day with a Danish tradition in educational establishments, the morning song.  The song was led by a musician and every one of us happily joined in with the celebratory singing.  We were then divided into groups of mixed nationalities to work together on a poster display, which we would be presenting to the other groups.  Group discussions also took place about Danish culture links to health and body, the Danish Welfare system, Danish food and the Danish healthcare system.  This resulted in interesting conversations about how Danish culture had similarities or differences to our own countries culture, traditions and laws.  This experience helped us to gain a greater personal understanding of other cultures and gain useful experience in presenting in an international learning environment.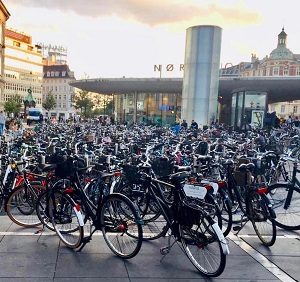 Our final day gave us the opportunity to sightsee and interact with the locals of Copenhagen.   This was the perfect way to observe the culture of Copenhagen itself.  It allowed us to contrast and compare our lifestyle choices and opportunities, with those of the locals of Copenhagen. We considered elements such as, local cuisine, physical activity, social interaction, environmental housing and urban planning.  The importance of leading a balanced life has been stressed to us during our studies at Queen Margaret University. During our free time we put some of these principles and insights from Hvidovre Hospital in to practice and engaged in various leisure activities such as cycling, swimming, walking and canoeing.  During our trip it occurred to us that this was not only vital for our service users but also ourselves. Cycling is such an inherent part of Danish life, helped by the flat landscape and infrastructure that it made sense to embrace the culture and learn new ways to create an occupational balance.  We hired bikes for the week and with a little practice (and a lot of patience from the locals) we soon got into a routine that brought us increased fitness and a sense of achievement.  This insight will be invaluable in future when we discuss with people that we work with what they would like to return to doing, and that we could also be creating new experiences that would become meaningful to them in the future.
This experience has provided a fantastic opportunity to network and develop new relationships with likeminded people with a passion for occupational therapy and holistic care.  Københavns Professionshøjskole, and QMU will continue to benefit from the international partnerships created by their students, and it will also play a part in strengthening the global connection of occupational therapy professions. This is something that is encouraged by the World Federation of Occupational Therapists in order to address transnational issues (Tupe et. Al 2015).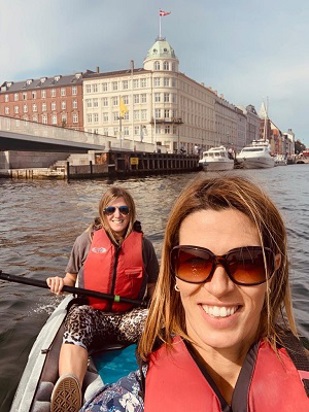 Denmark has been ranked as one of the happiest countries in the world (Wiking 2016b)  Hygge is a huge part of the Danish culture, a concept of well-being. Hygge is about surrounding yourself with simple things which make life feel good, sharing fun times with family and friends, being cosy and secure, eating good food. Having a good work life balance goes a long to explain the happiness of the Danish people.
There are many contributing factors to this sense of wellbeing and we are sure this will be the focus of further studies.  The UK has several similar characteristics, such as free health care for all, effective unemployment benefits, and Scotland also offers free university education.  Perhaps though there is still more we can learn from our Scandinavian cousins.