Joseph Kim – Business Management – Level 3
Hong Kong Baptist University, Hong Kong
Where do I start? First of all, I chose to go to Hong Kong for my exchange programme because it is a place where it is top 3 in the global financial hubs, and as a business student I thought this would help me to gain a better understanding in a more business environment. The whole journey itself starts from home, having to say goodbyes to family and friends before you start your new adventure across the other side of the earth for 4 months. I was very nervous because I have never travelled alone to a country that was 6000 miles away from home. However, after spending 4 months in Hong Kong I enjoyed it very much and would've regretted it if I had turned down this opportunity. I will now explain why I enjoyed my exchange student experience in Hong Kong.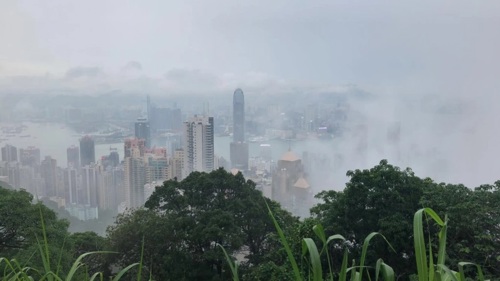 Firstly, the best thing you get out of this is that you are going to make new friends that have also decided to become an exchange student in Hong Kong. Everyone was extremely friendly, due to the fact that nobody knew each other, so making new friends was easy but great. These will be your friends while you stay here and you will literally be doing everything together such as travelling, hiking, partying, shopping, eating and many more activities. But also, the friends you met there will still be your friends when you go back home. Who knows they could become business partners with you in the future. So, one of the best things you get from this exchange programme is that create connections around the world.
Personally, I like to go on hikes and look at the beautiful scenery. Hong Kong has a lot of trails for you go hiking while also looking at the beautiful scenery. This is me on the 'Dragons Back'
It was a long hike but totally worth it when you get to see the beautiful scenery and take lifelong memory photos.
If you are the type of person that likes to look at unreal scenery then Hong Kong is the place to go as they have really tall buildings that are unreal to look at. You will see the best of the buildings at 'Victoria peak'. Here are photos of Hong Kong central at day and night.
The day I went to Victoria peak it was kind of foggy, but you still got to see the tall buildings. When you go to Victoria peak you will be amazed. It's just a shame that these photo doesn't give it much justice to when you see it in person.
When you got Victoria peak at 8pm the buildings will have lightshows which is definitely worth a go to look at.
While you are in Hong Kong there are so many places that sell good authentic food for so cheap and the best thing about it is that it tastes so good. So, if you like Asian food that's another reason to come to Hong Kong. While I was in Hong Kong I was also able to learn in a different environment which helped me to come more understanding in culture but also being able to become more adaptable in different environments, which I think is vital if you were to do international business. Also, as a student at Hong Kong Baptist university you will be able to listen to a lot of respectable and successful business men/women guest speakers that will also help you to learn in a different perspective in the business environment which I believe it has helped me.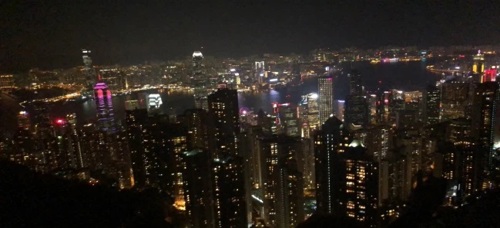 Therefore, during my time in Hong Kong I was able to learn in a different environment which helped me to think in a different perspective, which I believe is a big up. I was able to make new friends across the world that I still stay contact with to this day, but most of all I believe this exchange programme helped me to challenge myself and let myself become a better me and I would've regretted it if I had turned down this opportunity, so for that thank you QMU for giving me this opportunity.