Eryn Campbell - Drama & Performance - Level 3
California State University: Chico, USA
College Californication!
Where to begin … big cars, big sodas, and one great big experience!
As soon as I knew QMU offered exchanges in my third year I immediately knew I was going to do it, I was praying that I could be sent to America … and was so happy as the day I received the email informing me I would be going to live in California for six months!
Organisation and funding
My trip took a great deal of organisation. Once I knew my grades and the University of California Chico could confirm my place, I made contact with their International Students office, and was in touch with them regularly. They helped provide me with information on how to find accommodation. I had the choice of sharing university accommodation on campus, or finding an apartment off campus. Thankfully, there were Facebook pages and groups where people looking for flatmates advertised.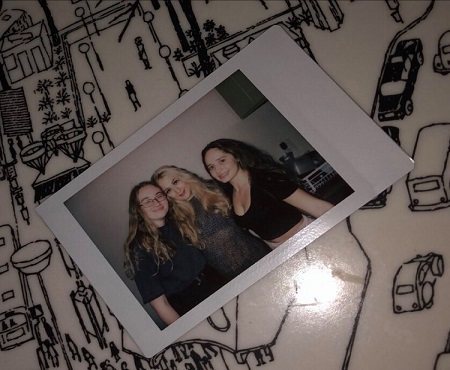 Once Chico confirmed I was enrolled for Semester Two, I could begin applying for my visa. Chico sent a pack filled with information on how to do this. Although I applied for my visa online I still had to book an American embassy interview, either in London or Belfast. Since I have friends in Belfast and the flight there was cheaper than to London, I flew to Belfast. I had to take all my documents with me, including my passport, the letter from Chico and proof that I had paid the visa fee. During the interview I was asked why I wanted to go to the States and how much money I had to take with me. I was told during the interview that I had been successful.
A week after my trip to Belfast I was informed my passport and visa were ready to collect in Livingstone. I was then able to book my flight to Sacramento. I chose to spend a few days with my aunt in Seattle before going to California so booked flights to Seattle via Dublin, then went on to Sacramento.
Once I knew the date I would arrive, I was able to try and get in touch with potential flatmates. I found this quite difficult as it was hard to know how far from campus to stay, how much I could afford and what sort of flatmates I could get along with. I got in touch with a few groups of girls but chose a flat in Creekview, sharing with two other girls, one in first year and one who was the same as me and was English but had lived in California around 10 years. I hoped we would all become friends.
After finishing up Semester One at QMU and moving out of my flat, I continued to work right through the Christmas period so I could have as much money as possible to take with me.
The International Students office in Chico provided very detailed instructions on what to do on arrival in Sacramento. I had to wait next to a big statue of suitcases and would get a lift together with other international students to Chico. Thankfully, everything went exactly to plan!
I could not have gotten to Chico or stayed for the full length of the exchange without the Lisa Persdotter Simonyi funding. I worked two jobs during the first semester of third year however that did not give me sufficient funding to organise my trip. Receiving the funding ahead of time meant that I could pay for my visa, my trip to Belfast for the visa interview, and my one-way flight to USA using the funding. Due to Covid, I wasn't able to work in the USA, therefore the funding helped to cover my living expenses during my stay. It also meant that I was able to afford to do some travelling and experience some Californian culture.
Education
CSU is in a small college town with a big heart, very much community-lead, which I wasn't used to. It offered so many creative opportunities and was filled with old and young people alike. It is known as a party school but the warmth from this college was really something else. It is a unique college for sure. The International Students Office arranged a first week of induction for the international students. This was really helpful, as it was a huge group of students, from all across the world. We got to know each other while we learned about life in USA and being a student at Chico University. We were invited to a number of events, including going 'snowshoeing', so that we could experience some of the local area and get to know each other better. Sadly, after February, all of the exchange student events were cancelled due to Covid.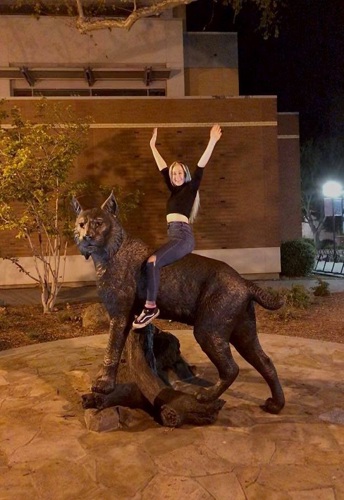 Unlike QMU, I was used to seeing the same faces in all of my classes, none of my classes had the same two people in them, which I found strange as I was taking five different theatre classes. It definitely made it harder to make friends or even a study buddy. It took a couple of weeks, but I ended up making friends in every class, especially my Musical Theatre class as it was reasonably small and very diverse and included a few other internationals and students ranging from first to fourth year.
My Scenic Design class was the most challenging as most of the class had taken at least one pre-requisite. However, the teacher was outstanding with a very impressive background including working with famous artists such as Lana Del Ray! I became really close with a girl who had been on exchange the previous year to Essex, so she knew exactly what I was going through.
I found the structure of the semester very different from QMU.  At first the workload was overwhelming as I was attending five different classes five days a week, normally from 9am -5pm. In QMU I was used to ongoing assignments and group projects to complete but at CSU an enormous amount of homework was given every day, plus classwork that was mostly solitary. Every few days there would be new homework assignments for each class as well as mini assignments which all counted towards your final grade. Final exams also counted towards grades and each class had one that was usually multiple choice questions, which I found reasonable simple compared to QMU exams, however I've not had many written exams on my QMU course.
I found the teachers at CSU incredibly supportive. They seemed to genuinely care about their students and their subjects which make learning all the more enjoyable.
There were many societies for students to join as well as fraternities and sororities which were all new to me. It felt like I was living an all-American movie when I saw the 'pledges' in the first couple of weeks of starting. I personally felt like I had no time to join anything outside of class which upset me as I had hoped to try out for school musicals and orchestras. The intensity of classes, trying to make new friends, attending international student activities and getting to grips with where I was, was enough to make anyone exhausted.
Friends
I was very fortunate to make lots of new and different friends on my exchange! I quickly became friends with my two roommates as we lived in a three-bed apartment and regularly cooked together. Lily was studying at a different college but we had a lot in common as she had lived in England for half of her life, so it was nice to have someone to have a 'cuppa' with. My other roommate Mackenzie, who was from Chico, was only in first year but we did lots together and she had a really nice friend group that I also hung out with. We all still keep in contact and I dearly hope I can see them both again soon.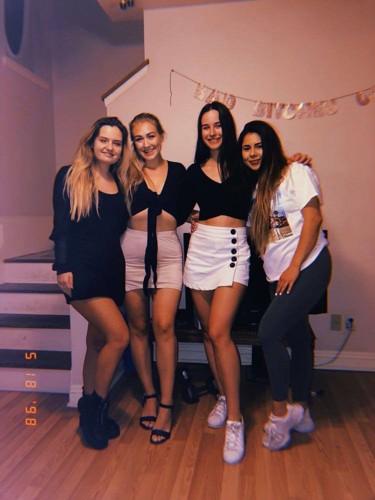 Other friends I made were the international students. Forming friendships was slightly tricky as it took a couple of weeks to get to know them. The buddy system CSU set up worked really well, as we all loved music, dancing, creativity and travel. The first friend I made, and who I have recently seen again was Martina from Italy – a beautiful girl inside and out. Together we became friends with two Swedish girls from the same university and then in turn a girl from the Netherlands. This is the wonderful group I got to travel to Hawaii with!
My two closest American friends were from my course: Taylor was from my Scenic Design class, a fellow exchange student that 'adopted' me as her reminiscence of the UK friend (how American). We booked concert tickets together, bonded over music and regularly went for dinner and Dutch Bros. Another close friend I made was Victoria who was in my Musical Theatre group. We bonded over regularly being hopeless at following the choreography together. A very enthusiastic, young-hearted person with equal passion for travel, I hope I can continue to travel with Victoria in the future, as we had some amazing, spontaneous road trips.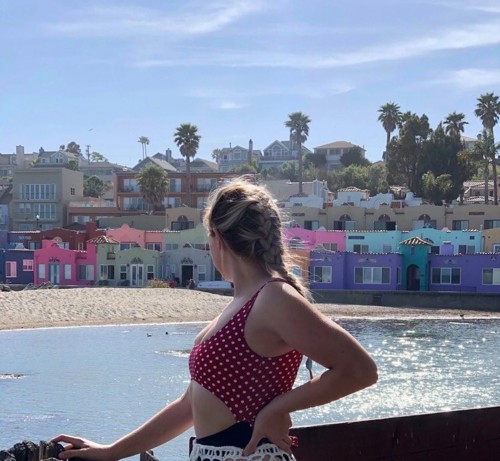 As an international student, I found it fairly easy to make conversation with Americans as they were generally very interested to find out more about my part of the world. Everyone I was introduced to was very friendly and I always felt included, which was nice.
Travel
During my exchange one of my biggest goals was to travel in USA whilst I had the opportunity. One of the difficulties I faced was that America is a big place. Unlike in Europe where you can rely on public transport, unfortunately in California, a car is essential. I was lucky enough to have made lots of friends, in difference settings and situations, so I pretty much had someone to do every activity with. The first place I ventured was Lassen National Volcano Park, only a couple of hours' drive from Chico. It amazed me that within such a short drive, the trees became topped with snow and there was ice on the roads, it was almost like I was back in Scotland however I only needed a light jacket and after snowshoeing for some time with the group, even that came off! It was a beautiful experience and for someone who has never done any snow activities, I can't believe I tried it in California!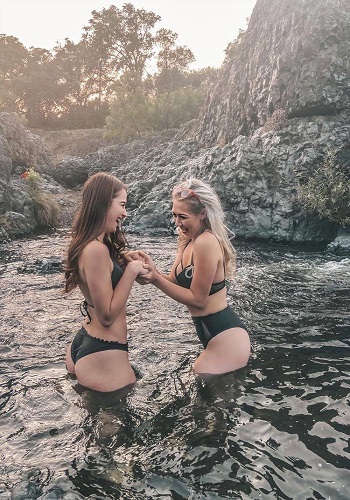 The next place I visited was a little further away … Hawaii!  My amazing international student friends and I booked a girls' trip for 'Spring Break'. I could not even believe it until I was there as I had always dreamed of going to Hawaii, but to go with brand new friends as a student meant my dreams turned into reality. We booked an amazing, well-priced hostel, two minutes from the beach where we met yet more wonderful international travellers. This was my first time in a hostel and I could not have had a better experience: two, four or six in a room with your own bathroom, a rooftop balcony for chilling or partying (occasionally with provided Domino's pizza until 10pm), for $35 a night with a waffle party breakfast included! We girls made the hostel our home and collected more like-minded people to explore the island with. From beach days drinking from pineapples, to tackling the Diamond Head hiking trail and spotting whales from the top, to hiring cars to drive around the island in thunderstorms, finding giant turtles and tourist paparazzi, to eating the most delicious local food. I cannot put into words how much I loved this travel experience.
The next place I visited was just an hour's drive away – Sacramento, which I learned was none other than California's capital. As I hadn't turned 21 yet we went to an Under 21s Club where I experienced something like never before in Scotland: ID scanned, eyes examined, hands criss-crossed with a huge permanent marker. I looked like I had the plague but at least I could go dancing again.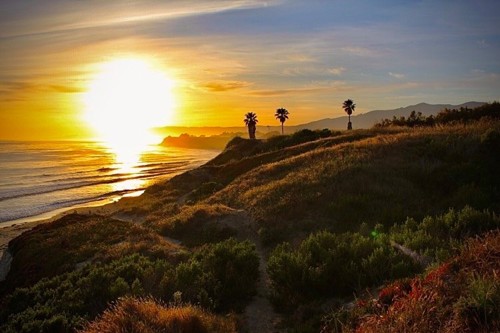 I didn't travel for a little while after this because the devastation of Covid-19 had struck. However, I knew my time was limited on this exchange and after making the decision to stay in America I continued and made some new plans. I travelled back to Washington and spent Easter with my Aunt which was lovely as my international friends were all leaving abruptly due to the pandemic. I was so thankful to have other supportive friends who helped get me to the airport and back.
Most students were returning to their hometowns to be with their families during Covid, so another friend from my Scenic Design class asked if I wanted to visit her in the next state over, Nevada! Her friend drove us just under four hours to get there and it too was amazing! The family were so kind and my friend showed us Carson City and Lake Tahoe – another insanely beautiful sight I never thought I would see, yet I made it happen.
I then organised a ride-share through the Chico State Ride-Share Facebook page and visited another friend in Santa Barbara a truly beautiful Californian landscape. White sandy beaches, palm trees and endless Mexican food! I tried to surf here which didn't quite go to plan but enjoyed spending time in this very cool college town. I ended up making friends with the girl driving back to Chico, we met up several times after and we are still in touch now.
After completing my studies, I then decided that I could not leave California without seeing San Francisco. A friend from my course took me on one last road trip, first to 'the Bay area' where she lived, then onto Santa Cruz, where again I saw the most picturesque beaches, cute cafes and stores with the best cookie shop that also served cold milk. We managed to go into a vintage store which felt incredible since we had not been able to go shopping in so long. We planned a hike which involved visiting a dojo where you could write and leave notes under rocks!
The last stop was San Francisco this was one of the trips I had been so excited to take as it was only a three-hour drive from Chico. My camera was propped at every opportunity and it felt amazing to finally see this beautiful city. Our first stop was Pier 59, and my friend and I tried and failed to speed there on the city scooters! Unfortunately, we couldn't access the real deal, and I had been looking forward to going to the Bubba Gump Shrimp Factory however we found amazing clam chowder in bread bowls instead. We posed next to seals and the infamous Alcatraz island prison. We then swiftly moved on to Lands End for the most spectacular view of the gorgeous coast where I caught my first glimpse of the Golden Gate Bridge. We then travelled through the city by car, the streets lined with liberal rainbow houses.
Walking down to the water's edge, staring up at the bridge below, I was blown away – literally – as it was so windy! Sadly, we left the city, crossing the bridge with music blaring: my last California adventure was over and I was soon to be on my way back home.
Covid-19
Like everywhere around the world, California was affected by Corona virus. Students and teachers alike began talking about it but it seemed there was nothing to worry about so like other American students, I made plans to go on holiday for Spring Break. A few other exchange students I had become friends with and I made plans to visit Hawaii, someplace I've always wanted to go. Our trip was in March and as the date approached, news about Covid made us more and more wary about travelling. We wore masks, and shared a hostel with other international travellers, and all the while, talked about this virus sweeping the world.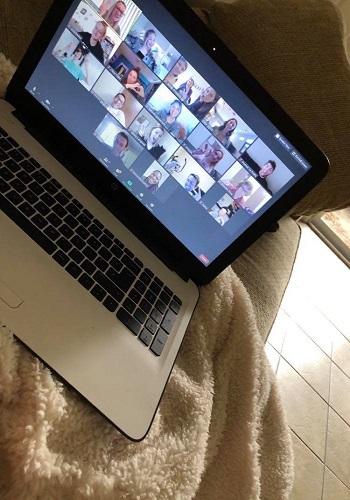 My Italian friend became so upset about Covid that she felt she had to leave immediately and cut her Hawaiian holiday short to return home to her family in Italy. We arrived back in Chico after that to find all our face-to-face classes cancelled, with online learning the new mode of study.
Things changed a lot for me after that. It was difficult to get used to purely online study, particularly for classes such as Dance. It meant some of the friendships I'd started to form fell away and everyone's social life became quite non-existent. One of the reasons I'd chosen the apartment where I was staying was that it had a swimming pool, however Covid meant the pool was out of bounds – for the entire duration of my stay there.
My family back home in Scotland were obviously worried about me being so far away while the world was going through a pandemic but one of the most worrying things was whether my international health insurance would cover me if I got Covid and went to hospital. I had to contact my insurance provider and ask all of these questions. I found out that I would have had to pay a large sum of money for an ambulance if one was needed, as well as an excess if I went to hospital.
My family and I debated the pros and cons of staying or returning home. With great sadness I watched as all my international student friends left, returning home to an unknown situation as all of their home countries were going through an incredibly difficult and scary time. The international travel itself was scary however flights across USA continued throughout my stay… and I decided to stay.
Everybody had a different story to tell during the pandemic. I had made friends with an international girl from Turkmenistan earlier in the semester and as she was doing her masters she did not leave return home as she had another year and a half to complete her studies. It turned out we lived along the street from each other the whole time! We connected and I had a new friend group again. The other international student I knew that stayed was another Dutch person called Isa. Her friend had come to visit her over spring break.. little did senna know that she would have to extend her weeks holiday into a 90 day experience!
I went to visit my aunt again in Seattle for Easter as there was nothing to do in Chico and all my international friends had left and American friends had gone back to their home towns. I focussed on my studies after Easter, and became very good friends with my flute teacher, a lovely lady who invited me to enjoy walks with her, and who talked about her life experiences and took me under her wing like an adopted grandmother.I began to embrace the outdoors, and went on picnics with friends, visited nearby lakes to go swimming, went hiking and saw a lot of the beautiful area I lived in. By April the situation appeared to be getting worse so my family booked my flight home. To my horror, the flight was cancelled by the airline because they could not get me through Europe to the UK. Two more flights we booked were cancelled and it began to be more real that there was a global pandemic causing major disruption across the whole world.
I completed all of my final assessments online, including some exams, and dance routines. My room mates were very supportive about considering our living room/kitchen became my new dance rehearsal space.
I was in the midst of making plans to visit Los Angeles as I felt I HAD to considering it was in the same state but again due to Covid I reconsidered. Then the global news turned for a second from the global pandemic to the Black Lives Matter Protests, with LA being a major rioting spot I cancelled my trip indefinitely.
I finally got a flight home mid-June, and went to Seattle to see my aunt one last time. My flights home were surprisingly full, everyone wore masks, and I had to quarantine for two weeks when I arrived back in Scotland. Sadly after quarantining all of the restaurants and pubs were still closed, so I couldn't find a summer job which prompted me to travel to Italy to become an au pair. While in Italy, I met up with my friend who had left Hawaii in a hurry, it was very good to catch up again.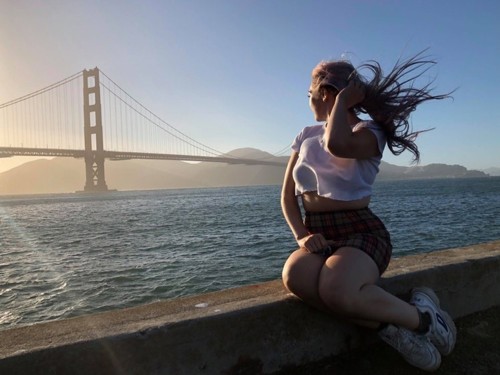 My experience certainly was not what I expected it to be! Some parts were unreal beyond belief. I was enjoying life's happiest moments I didn't know I could have whilst some parts were filled with true sadness. It is an experience has truly opened my eyes, I will be forever grateful and not one that I soon forget.