For any new students starting their first semester at QMU this September 2021, we've created a mini-guide to some of the best outdoor spots to visit in and around Edinburgh, based on suggestions from our staff and student body! 
The city of Edinburgh is just a six-minute train ride away from campus or a 35-minute bike ride – with JustEat cycle hire options available on campus too! The beaches of Portobello and Musselburgh are also easily accessible by public transport for lovely walks along the sea. 
So before the nights draw in and winter arrives, why not go exploring? 
1. Princes Street Gardens 
Edinburgh's "green heart" and accessible directly outside Waverley train station, Princes Street Gardens stretches all along the city's main shopping street (Princes Street) and is a fantastic spot for a picnic. During Christmas and festival seasons (which are slowly returning after COVID), the space is the location for markets, performances, fairgrounds and more.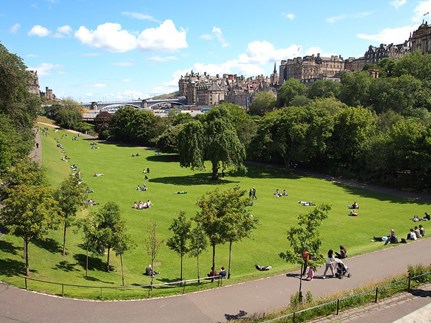 Image credit: Forever Edinburgh 
2. Dunsapie Loch (Arthur's Seat) 
You can't miss Arthur's Seat – the extinct volcano that sits in the middle of Holyrood Park and dominates the Edinburgh skyline. Arthur's Seat and the surrounding hills provide locals with wonderful walking and hiking trails in the middle of the city! Dunsapie Loch is a small lake that sits on the north slopes of the hills and is a tranquil place to relax.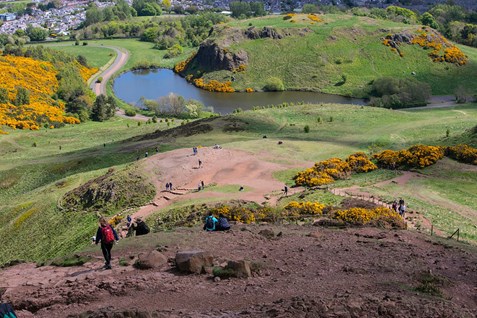 Image credit: Forever Edinburgh
 3. The Pentland Hills  
Easily accessible from Edinburgh city centre, The Pentlands is great for a day out that feels like a real escape from the city. The gentle, rolling hills provide 100 kms of excellent walking and hiking and includes several reservoirs, home to birdlife and mammals. The Pentland Hills regional park website provides details of trails for all fitness levels as well as hiking safety guidance.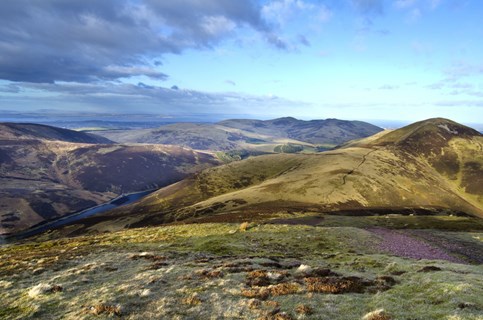 Image credit: Forever Edinburgh
 4. Portobello and Musselburgh Beaches 
A short bus or bike ride away from QMU, both Portobello and Musselburgh beaches offer picturesque seaside walks and a range of places to eat and drink along the seafront. Portobello beach offers many shops, bars, cafes and watersports facilities and – for the brave – sea swimming (do follow safety guidance!) Musselburgh is a bit quieter, with a good walking coastal path, picnic spots and a pretty harbour.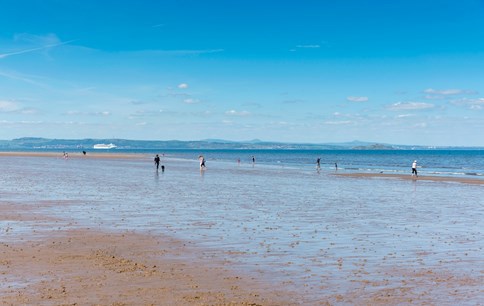 Image credit: Visit Scotland 
5. Dean Village 
A hidden secret in the north of Edinburgh, Dean Village is just a few minutes' walk from Princes Street, a tiny neighbourhood along the Water of Leith that looks like it came straight out of the Harry Potter books. The village is made up of traditional water mills and 19th century buildings set along the Water of Leith, including the impressive well Court and Dean Bridge. From here you can walk along the Water of Leith or to Edinburgh's Gallery of Modern Art.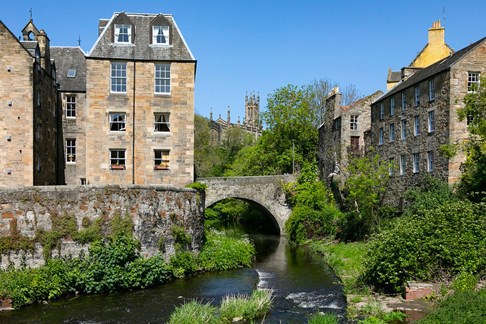 Image credit: Forever Edinburgh
6. Calton Hill  
A great spot for observing the whole of the city, Calton Hill offers views across the Forth of Firth on one side, the centre of Edinburgh on the other and even – on a clear day – over to the Pentland hills. Calton Hill is popular for walking and as a vantage point for watching the New Year and Festival fireworks. The hill boasts several landmarks including the National Monument (based on the Parthenon in Athens) and Nelson's Monument and also has a contemporary art gallery.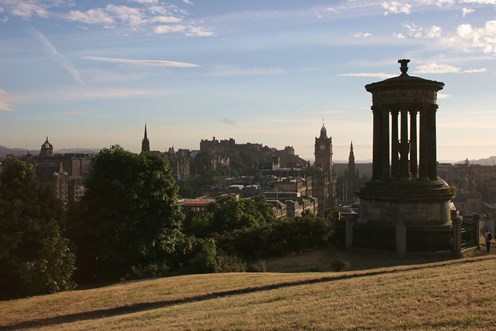 Image credit: Forever Edinburgh
For more suggestions and itineraries – visit Edinburgh.org