This May, a team of hardy QMU film, theatre and drama students called The Ninjalbatrosses took part in the annual Edinburgh 48-Hour Film Project, scooping Best Picture amongst a raft of nominations and awards! 
Back after a 2-year COVID hiatus, the 48 Hour Film Project is a creative competition set up by another QMU alumnus, class of 2009 graduate Sam Goldblatt who now works for Capital Theatres after gaining his MA in Arts, Festivals and Cultural Management. 
The mission of the 48-Hour Film Project? Simple. Teams have 2 days to write, shoot and edit a film, after being given basic prompts just moments before kick-off. The competition entries are screened at a special gala with a voting and awards ceremony.
So meet the winning QMU team and find out more about their experience...
Hi! We are The Ninjalbatrosses, a team of film, theatre and drama students here at QMU.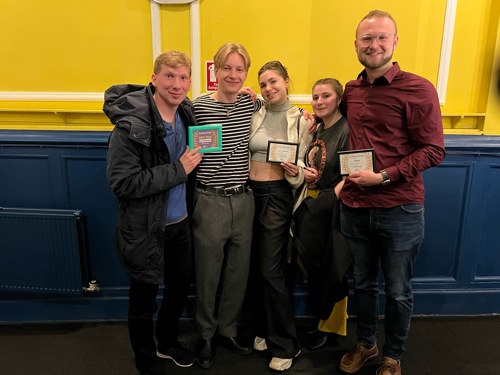 We formed this group of wonderfully creative individuals to take part in the 48-Hours Film Project. The competition is a great opportunity to push your own boundaries in terms of storytelling as well as filmmaking in a very short period of time.
At the beginning of the most likely longest weekend of our life, we were given a character, prop, line, two genres and 48 hours to make a film out of them!
Spoiler Alert: it was worth the hustle as we received 8 nominations and 3 awards, including the main one Best Film, despite the fact that they were 24 teams which competed with us and some of them were bigger, professional crews!
Our tips for those wanting to take part:
Make your idea matter
For us it was crucial to create a short film about something which many people can relate to.
After the opening ceremony on Friday evening, we were tossing around many different, challenging concepts ranging from religion to abortion, but in the end we agreed to focus on one of the biggest, current, societal issues today: the sexual harassment of women and how we can tell their stories in a believable, but succinct way.
In the end, we came up with a story which resonated with every single one of us and this is exactly why we got excited about getting it from paper to screen.
A bit of rest is essential
Even though 48 hours goes by really quickly, it was still important for us to take breaks throughout the entire process.
Once the basic storyline was completed on Saturday at around 2am, we decided to come back to it a few hours later with refreshed minds in order to sharpen the plot and dialogues. Then after having used the rest of the day for filming, one of our team members did the first rough cut on Saturday evening, while the other one slept to make the final cut throughout the entire day of Sunday.
If you can split the workload between several committed people, it gives everyone the chance to put their full effort in.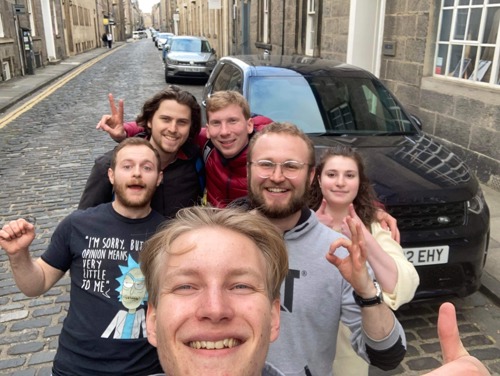 Our QMU courses laid the foundations for us to win!
Over the years studying for our degrees, we were taught different techniques and ways of storytelling.
In this regard, the modules Video Production and Screenwriting were especially helpful as we were introduced to essential filmmaking guidelines such as telling a story in visual images rather than dialogue or creating a step outline for each scene to build up the action and tension.
Apart from that, the collaboration with other students on those modules led to the formation of the The Ninjalbatrosses since some of us had already successfully worked together or at least admired the films done in other groups.
In a nutshell: QMU provides you with great opportunities for networking!
Want to see our winning movie? 
The winning team was made up of:
Szymon Clivaz, BA (Hons) Film and Media, 3rd Year
Stefan Nachtsheim, BA (Hons) Film and Media, 3rd Year
Natoli Migdal, BA (Hons) Theatre and Film, 4th Year
Noémie Galante, BA (Hons) Drama, 3rd Year
Jamimie Busuttil, BA (Hons) Theatre and Film, 4th Year
Paula Wengerodt, BSc (Hons) Public Sociology, 4th Year
Liam Jackson, an actor from outside the Uni
Jack Wragg, an actor from outside the Uni