Heather Fulton - an MA Arts, Festivals and Cultural Management student at Queen Margaret University (QMU) - was awarded the British Council Venice Fellowship in January this year. She travelled to Venice this August alongside other UK students, graduates and researchers to work at the world's most important art biennale.
QMU has recently secured funding for a second year running, with another MA student from the programme set to head to the north-eastern Italian city this summer. Read what Heather had to say about her experience below.
In August this year, supported by QMU, I had the incredible opportunity to spend a month living, working and researching in Venice through a Research Fellowship awarded by the British Council.
La Biennale di Venezia is the organisation responsible for managing the Biennale Arte and Biennale Architettura, which take place in alternating years. This year marked the 58th Art Biennale, which included curator Ralf Rugoff's international exhibition 'May You Live In Interesting Times' and the pavilions at the Arsenale and Giardini, as well as many 'collateral events' and exhibitions.
My time as a research fellow was divided between working at the British Pavilion exhibition and conducting independent research. At the pavilion, I invigilated and engaged visitors in the work of Cathy Wilkes' solo exhibition. The pavilion entrance also provided much needed shade from the Venetian sun - for both human and feline visitors to the Giardini!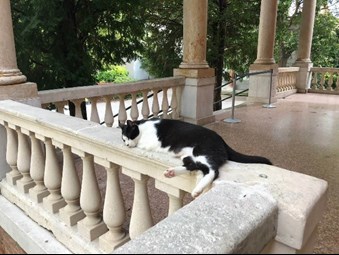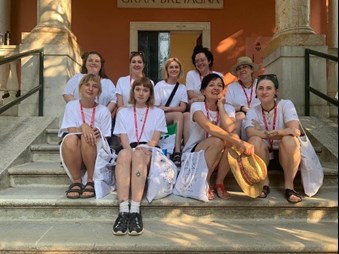 As part of my research, I facilitated a reading and discussion group which included artists, biennale office interns, exhibition invigilators and Curatorial School students. Centred on Rugoff's theme 'May You Live in Interesting Times', we explored the complexity and contradictions within the biennale model. After readings of Neimanis' 'Hydrofeminism: Or, On Becoming a Body of Water', we discussed how exploring our interconnection with water can help us understand complex environmental issues, particularly in the context of Venice - a city famous for its channels of water. Reflecting on work exhibited at the biennale - such as Sun and Sea (Marina), Lithuania Pavilion and Post Hoc (Dane Mitchell, New Zealand) - we considered and discussed the instrumental value of art to challenge social and environmental injustices.
Being there for a whole month allowed me to take in the giant that is the biennale much slower that I would be able to if I was just visiting; I could spend more time in exhibitions - looking at the detail, listening to other people's opinions and then revisiting them. I swam in the sea, read papers and reflected on the themes presented at the biennale. Living in Venice was incredible - it was a complete joy to explore, and frequently get lost in! I met so many wonderful people and learned so much from my peers at the British Council, the international cohort of pavilion workers, visiting artists and local Venetians. We spent our free time navigating vaporetti (Venice's public water bus system), talking art and drinking €1.50 prosecco from Mario's communist bar. It was magical!