Postgraduate Accommodation Fees & Payment Options
2023/24 Accommodation Fees
38 WEEK CONTRACT
1 September 2023 - 24 May 2024
| | |
| --- | --- |
| Standard Room | £5054 (£133 per week) |
| Premium Room | £6080 (£160 per week) |
50 WEEK CONTRACT
1 September 2023 - 16 August 2024
| | |
| --- | --- |
| Standard Room | £6650 (£133 per week) |
| Premium Room | £8000 (£160 per week) |
The cost includes hot water, electricity, heating and internet connection and basic contents insurance provided through Endsleigh Insurance.
Contract Periods
The student accommodation is leased on a 38 or 50 week basis starting from Friday 1 September 2023, including Christmas and Easter.
If you are studying at QMU for one semester only then you may be eligible for a single semester contract. Please contact us for further information.
Please ensure you take time to carefully read the Terms and Conditions of your accommodation contract before accepting it. Once accepted, your accommodation contract is a legally binding agreement and you will be liable for accommodation fees for the full duration of the contract.
Payment Options
Prepayment
This payment is to be made by credit/debit card at the time of accepting your accommodation offer in order to fully accept your place in halls. This money is credited to the student's residence fee account and shall be deducted from residence fees due for the complete residence period. Please note this prepayment is not a security deposit and it will not be refunded at the end of your tenancy.
Payment Methods
One Payment in Full: by credit/debit card payment by telephone or bank transfer on or before arrival.
Direct Debit: 8 instalments (October - May). Please complete and return your direct debit mandate once you have accepted your offer. Your completed direct debit form should be returned to the Finance Office at least 15 working days before the first instalment date.
2 Equal Instalments: first payment on or prior to arrival and the second payment in the first week of January.
Recurring Card Payment (RCP): 8 monthly instalments by credit/debit card from October to May. To set up a RCP using your debit/credit card you should login to the QMU Student Portal where you will see your invoice and the option to pay in instalments. Please ensure the invoiced amount excludes any payments you have already made (e.g. Prepayment of £250). If the invoice is not visible or your payments have not already been deducted, please contact the Finance Office before setting up the RCP. 
Visit our Payment Options page
Accommodation Fees can be paid using the following methods:
Credit/Debit card: In person or by calling the Finance Office on +44 (0)131 474 0030
Bank Transfer: Our bank details are in our Payment Options guide
Accommodation Enquiries
Office Hours:
Monday - Thursday 9am – 5pm
Friday 9am – 4:30pm
Show Contacts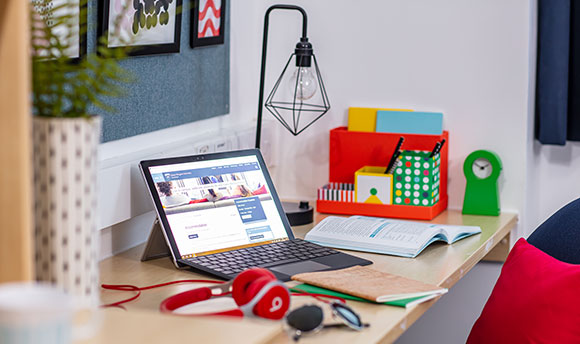 Log on to eAccommodation Portal
Useful QMU Accommodation Resources