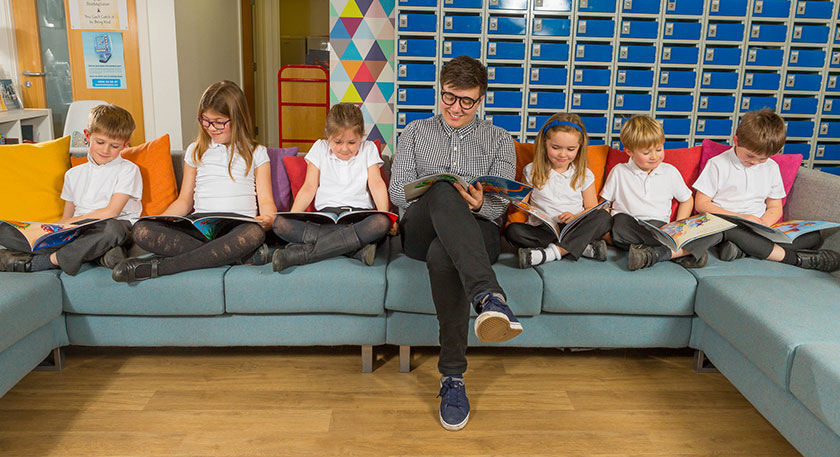 Are you thinking about teaching? Do you want to make a real difference in the world, today and for future generations? Then consider our fresh approach to teaching, one grounded in practice and a robust foundation of social sciences.
Why QMU?
Our BA (Hons) Education Studies (Primary) will give you a professional qualification to teach in primary schools. Our BA (Hons) Education Studies is a broad-based social sciences degree with an emphasis on education. At postgraduate level, we also offer a PGDE Secondary (Business Education), PDGE Secondary (Home Economics) and PGDE Secondary (Religious, Moral and Philosophical Studies).
Our courses are designed to meet the challenges as well as recognise the rewards of teaching children and young people in the 21st century. They will actively engage you in contemporary issues in psychology and sociology, helping you develop a sound knowledge base of children's developmental pathways and the range of factors that affect them, studying, for example, the impact of poverty and deprivation in early years. Students will learn about global health and learning inequality, the impact of adversities such as homelessness, neglect and migration, and the importance of creativity and the natural environment for our wellbeing. These courses are designed to help you engage with contemporary socio-political issues to help make a difference as a teacher, at an individual, community and national level.
You will gain essential practical skills through supported placements in a range of settings, traditional and specialised. Our courses offer a rounded and grounded education, preparing you to be an autonomous, critically thinking reflective professional.
This fresh, new approach to teacher education offers an exciting variety of learning and assessment methods that includes an important element of outdoor learning.
Our distinctive approach to learning and teaching
We have drawn on our existing expertise to develop education courses with a focus on wellbeing, resilience, child welfare and inequality. Here you will discover a vibrant and stimulating teacher education experience, where you will study and work with a range of community organisations, schools, parents, local government and children's services.
Our teacher education portfolio sits within the Division of Psychology, Sociology and Education at QMU and shares the acclaimed approach taken by our psychology and sociology courses in being intellectually rigorous and student-centred, with a focus on wellbeing, social engagement and diversity at their core.
Preparing you for a fulfilling career
Our BA (Hons) Education Studies (Primary) course will give you the expertise, confidence and professional qualification you need to teach in primary schools. It will prepare you to inspire a class of young learners, and will engage you in the wider social issues that affect education on every level and how this in turn influences educational outcomes for children.
Our BA (Hons) Education Studies degree will prepare you for a range of careers working with learners of all ages and abilities and in all settings and contexts. Your professional pathways could include educational contexts other than the traditional classroom such as adult community education, overseas humanitarian education, or teaching roles in special setting such as hospitals.
You could use the degree as a building block for postgraduate studies, moving on into our Master of Research (MRes) where you will be supported and inspired to undertake research in an area you are passionate and curious about.
Graduates from our PGDEs will be fully qualified to fill vital posts in secondary schools.
Find out more information on how to apply for a course at QMU.