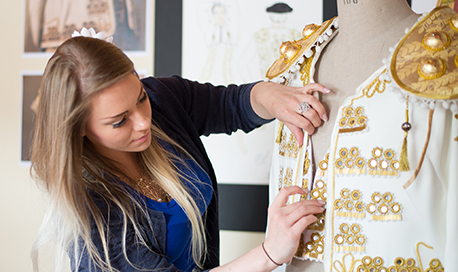 Let's set the scene...Scotland's creative industries generate more than £5.2 billion and employ in the region of 60,000 people. Cultural and creative experiences stimulate individual curiosity and expand our collective imagination. It is no wonder that the performing arts is such an inspiring field to study and work in and the theatre, film and TV industries are always looking for graduates with creative talent, skills and ideas.
At QMU, you'll learn skills and build relationships that will prepare you for a rewarding career in the flourishing creative sector. Our highly respected drama and performing arts courses will give you the theoretical understanding, hands-on expertise and creative stimulation that will help you to turn your creative ambition into an exciting and sustainable career.
Why QMU?
We are ranked in the top 12 amongst UK universities for Drama and Dance (Guardian University Guide 2023).
Go to the theatre, watch TV, listen to the radio or play your favourite computer game and you'll soon see the work of one of our Performing Arts graduates. Doctor Who, Peaky Blinders, The Cry, River City, Outlander, CBeebies, Casualty, Hollyoaks, The Night Manager, Assassins Creed, Warhammer 40,000, The National Theatre of Scotland, Dundee Rep and The Traverse have all recently featured the work of QMU alumni. And it is not only on stage and screen that our graduates can be found, many will go on to use their creative skills in education, health and wellbeing, tourism and arts management.
We offer the following undergraduate courses:
The creative industries are very competitive fields, and trying to enter them can seem a daunting prospect. However, employers are looking for graduates who have developed the specialist knowledge, up-to-the-minute working practices, and high-level communication skills that enhance their natural creative enthusiasm. And that's what you can expect to learn on all of our Performing Arts degrees.
While each course has its own specific emphasis, they all provide students with a comprehensive critical understanding of the processes and practices by which new creative work is generated. Our teaching focuses on the role that the dramatic arts has in the construction of public culture, in the creation of new expressive forms, as the basis for a range of professional practices, and in shaping everyday social and psychological life. Through both theory and practice you will explore a broad range of creative and cultural activity. In doing so you'll engage with current debates in these exciting fields of study, while critically engaging with the historical evolution of particular genres, aesthetic traditions, and the way in which plays and screen texts organise understandings, meanings and effects. As part of this engagement, you will have opportunities to work individually and in small groups to produce your own performances, scripts, screenplays, designs, costumes or short films.
Drama and Performing Arts staff at QMU are a mix of arts practitioners and academic researchers. Award-winning staff have produced work for a variety of commercial, cultural, educational and local government clients, and have exhibited and performed their work at festivals in the UK and internationally.
As the home of numerous international theatre, film and television festivals, Edinburgh is the ideal place to study these creative arts. There are five purpose-built theatres showing everything from major West End hits to innovative, risk-taking new writing. For film, it boasts an art-house cinema, five multiplexes and two smaller cinemas, and the city is frequently used as a location for film and television shoots.
Approach to learning and teaching: combining theory and practice
All of our Drama and Performing Arts courses combine academic enquiry with opportunities for practical production, and the balance between theory and practice will vary depending on the degree that you undertake. However, alongside traditional lectures and tutorials, all of our courses includes creative workshops, opportunities to work on live performances in a variety of roles and invaluable industry-based learning opportunities. There are core modules at the heart of each of the courses complemented by electives and options that let you specialise in areas relevant to your future career path. No matter what options you choose you will be encouraged to examine the creative process closely, find your own style, develop your critical consciousness and think for yourself both creatively and as an entrepreneur.
Our approach to learning fosters collaboration, with students from different courses often working together on productions and creative projects. For example, the work of Costume Design undergraduates can come in very handy for those on the Acting for Stage and Screen course. It's a natural and creative way to prepare for real-life team work after graduation. For performance activity, the University has a fully equipped and licensed studio theatre and five rehearsal studios, two of which have sprung floors to facilitate movement work. We also have a costume design and construction workshop, and a green screen studio. The division also has digital editing suites and post-production facilities where students have access to Adobe creative editing software including Adobe Premiere, After Effects, Photoshop and Audition.
Through our wide range of industry connections, students also have regular opportunities to hear directly from those working across the creative and cultural industries and a number of modules offer students the chance to undertake industry-based learning through going on placement or undertaking real-world client projects. Starting in their first year, students are encouraged to see themselves as future contributors to the creative sector in Scotland, the UK and internationally. At every level, students have the opportunity to develop vital creative enterprise skills including collaborative working, new business development, company formation, budgeting, pitching and presenting, fundraising, design thinking, idea formation and social media management. We design our assessments to put these skills into practice so that our graduates are well prepared for the work needed to develop a sustainable career in the creative and cultural industries.
Many of our students also snap up the opportunity to study a semester abroad during their course and we have university partners in Australia, Canada and the USA (subject to availability).
Research-informed teaching
Creativity is in your bones forever, and our staff are active as both creators and researchers. Current staff research topics include fascinating work on intercultural theatre training, collaborative devising practices, contemporary Scottish dramaturgy, film adaptation, place-based performance, cultural participation, theatre anthropology, fandom, community festivals and art in healthcare.
Opening up a multitude of career opportunities
At QMU we recognise the phenomenal potential that exists within the creative and cultural industries in Scotland and our courses open up a multitude of career opportunities, ranging from creative practice to arts and festival management, producing, teaching, directing, fundraising and marketing. However, we also know that establishing a sustainable career in this sector requires adaptable and resilient graduates who have a diverse range of knowledge and skills. Creative workers are far more likely to be self-employed or working for SMEs and need to be as skilled in managing a business as they are in developing their creative practice. As such, we also provide support and mentorship for setting up new businesses through the Business Gateway office located on campus and QMU's Business Development Team. Since 2016, students have been able to establish start-up companies within our Business Innovation Zone, and our performing arts graduates have been some of the most prolific in launching new business ventures, many of them social enterprises.
Get ready for the performance of your life.
Find out more information on how to apply for a course at QMU.