Anna Linda graduated from Queen Margaret University in 2020 with a Diploma in Hearing Aid Audiology before returning to her native Iceland where there is a severe shortage of Audiologists. She now runs her own Audiology clinic in Iceland and continues to further her Audiology studies remotely at Anglia Ruskin University.
About you
Why did you choose to study at Queen Margaret University?
I come from a healthcare background and have a bachelor's degree in nursing from the University of Iceland.  I had worked at a hearing aid clinic in Iceland for more than a decade and had dreamt of finding a suitable distance learning course in audiology, improving my knowledge and skills in this field. Unfortunately, there are no audiology courses available in Iceland, and there is a great scarcity of audiologists working in my country.  I had attended numerous accredited courses in the field of audiology in the UK.  One day my online search for an audiology course came up with the Dip in Hearing Aid Audiology at QMU.  Instantly, this option appeared to be the answer to my long-lasting search.  The setup of the course and how it is designed to fit around individuals who are currently working in a clinical setting was of great importance for me.  Additionally, the travel between Iceland and Scotland is relatively easy, with only 2 hours flight between the countries.
Additionally, Edinburgh has its attraction both historically and aesthetically. 
What attracted you to the course?
The blended setup of distance learning and on-campus practical teaching.
The Course
What did you enjoy most about your course? What were some of the highlights?
The on-campus sessions were my favourite, especially the practical ones. Additionally, I enjoyed getting to know fellow students on the course and learning more about their backgrounds and current clinic work.  Some, like me, had been working in the audiology field for years, and it was interesting to compare different experiences and clinical practices. I've made some friends from this course, which I hope to keep in touch with, in the unforeseeable future.
What challenges did you face with the course and/or university life? How did you overcome them?
At times it was challenging to juggle both full-time work and full-time learning. However, I had great support from my family, and the best way to overcome the pressure of education is to be organized and have a thorough study plan.
Did you take part in a placement as part of your course and if so, can you tell me a little about that experience?
No, I was placed in my own clinic in Iceland.
Do you have any advice for students who might be interested in this course?
I would advise them to allocate a specific amount of time for reading/assignments every week and work ahead of schedule whenever possible.  That makes it easier and more enjoyable to study whilst continuing to work in the clinical setting.
What QMU services did you access to support you through your university journey?
The allocated library liaison was very helpful, and I had great support from the program leader, Christine Johnson.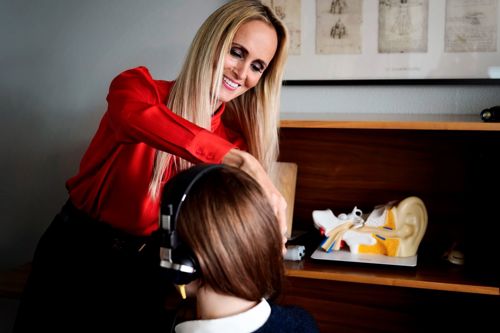 Life as a QMU Student 
What's your 'top tip' for making the most of being a student?
Try to enjoy and embrace the experience of learning something new.  Even though the work can be challenging, reaching the finish line and completing the degree is extremely rewarding.
What was the most valuable lesson that you learned at university?
It reminded me of the fact that it is never too late to learn more.  In my case, I had completed my degree in nursing more than two decades ago. I felt a bit anxious to start at Uni again and study English, as Icelandic is my native language.  The fear quickly subsided at my first campus visit when I realised that I was not the only one feeling like this and the teachers were there to support us through this course.  I soon realised that studying in another language was not an obstacle for me as most of my reading in my previous studies had been in English as well. 
After graduation
Can you tell us about your life post-graduation?
Since graduating, I have started on another course in Audiology at Anglia Ruskin University whilst working full time at my clinic in Iceland. 
However, I guess that the most remarkable experience in the past year was going back to my roots, as a nurse, in the COVID vaccination team.  I volunteered to work a few hours a week in the highly successful vaccination programme in Iceland, administering the jab and preparing the vaccine syringes.  The team was amazing, and I feel proud to have been a part of it.
Was it important for you to study with a UK university? 
Yes, it was.  The UK is renowned for top-class university education.  To my knowledge, the few registered audiologists (<10 individuals) studied in Scandinavia; however, my preference was always the UK. 
Did you feel connected to QMU during your time as a student? 
Yes, I did.
Did you feel like there was enough of a balance between practice and theory?
Yes, for the most part, though I would have preferred a bit more time for practical sessions and make some adjustments to the theory part (one module), mainly as it would have been more relevant for my clinical practice.
So you were studying very hard, did you have any time for anything else? We think it's important for students to have some fun as well and be able to relax.
Yes, I did.  I enjoyed every on-campus visit and used any extra time to explore the beautiful city of Edinburgh.
"The setup of the course and how it is designed to fit around individuals who are currently working in a clinical setting was of great importance for me. "
[Story published in 2020]