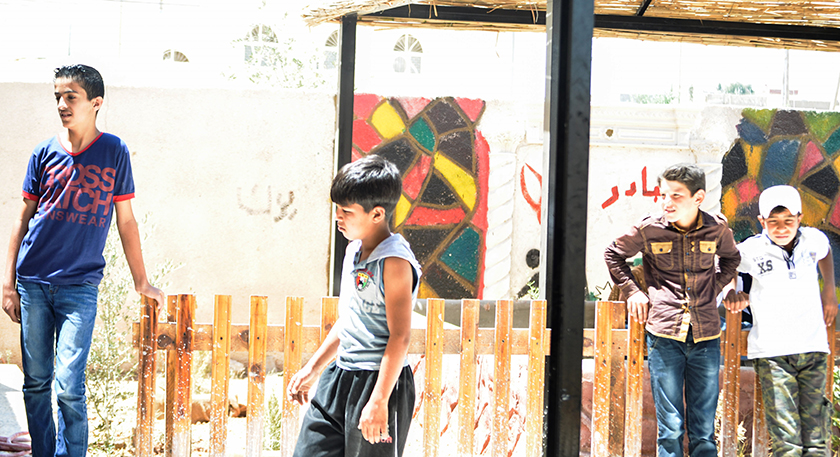 Offering a very popular and highly thought of range of courses,  our Institute for Global Health and Development is a multidisciplinary centre for postgraduate education and research on global health challenges in low and middle income countries.
Our Institute for Global Health and Development's range of postgraduate courses
Our  Institute for Global Health and Development (IGHD) currently offers the following courses as part of its Master's Programme in Global Health and Development:
Within the overall structure of our master's course portfolio, students can choose between our flagship MSc Global Health or the more specialised award pathways. There are also opportunities to take modules from other courses at QMU or from partner institutions in Europe through the tropEd programme.
Why study with QMU?
IGHD is proud of its reputation for providing high-quality courses that draw together participants from diverse cultural, professional and academic backgrounds to share a student-centred experience emphasising mutual learning and support.
Our approach is marked by a commitment to critical thinking, practice engagement and social justice:
Critical thinking means we bring fresh insight and perspectives to situations, with our work frequently involving innovative methodologies and approaches.
Practice engagement means that we are committed to working directly with ministries of health, international and national organisations and local communities to develop real solutions to problems.
Social justice means that we are always particularly mindful of the needs of the most disadvantaged and ways of improving their health and wellbeing.
A distinguished history of influence
Our work in the field of global health and development has a history of more than 25 years. We delivered the first Postgraduate Diploma in Primary Health Care that was aimed at participants from the global south in the UK and our portfolio of courses and focus has continued to expand.
We were established as the Centre for International Health Studies in 1993 and became the first institute of the University, the Institute for International Health and Development, in 2005. In 2015, we were renamed the Institute for Global Health and Development to reflect our understanding of the impact of globalisation on health and the partnership between the global north and south to address it. Since our establishment, we have equipped more than 500 master's and doctoral alumni from Sub-Saharan Africa, South and East Asia, the Middle East, Europe and the Americas for work in the health, development and humanitarian sectors.
A setting for world-leading research
The Institute hosts world-leading research in the following two areas:
Health systems, particularly in fragile and low income settings - our team is heavily engaged with the UK Department for International Development (DfID)-funded ReBUILD consortium. ReBUILD's work is focused in Sierra Leone, Zimbabwe, Uganda and Cambodia
Other recent and ongoing health systems work has been funded by the World Health Organisation (WHO), Medical Research Council, Economic and Social Research Council and the National Institutes of Health (NIH). Work has addressed issues ranging from human resources for health in Africa to analysis of systems resilience in the Middle East and strategies supporting victims of stroke in Asia.
The psychosocial wellbeing, protection and integration of migrant, refugee and other vulnerable populations - our work is typically with inter-governmental, governmental and nongovernmental partners (such as UNICEF and World Vision).
Recent projects include humanitarian situations (eg in Nepal, in Malawi post-floods and in Iraq) and contexts of refugee resettlement (including the current settlement of Syrian refugees in Scotland).
Our teaching approach emphasises active, applied learning
The diverse background of our students and small class sizes enables learning to be interactive, with lectures and online learning material supplemented with in-class group work and discussion.
Assignments are varied and geared towards practice applications and facilitating the extension of participants' interests and development needs. The active engagement of teaching staff in applied research provides many opportunities to illustrate issues with contemporary field examples.
With a typical cohort size of around 25 students, our courses provide a learning environment focusing on active learning and interchange of ideas and views between participants and educators.
Courses leading to a range of meaningful careers
Our courses lead to careers in a variety of settings. Many of our graduates are looking to progress into higher-level technical or management positions and others are looking for a complete change of career. We counsel students that the first job after study is not always the 'perfect' one, but that it can be an important step in gaining experience.
At IGHD we circulate a range of job opportunities in our partner organisations and are often able to suggest candidates for vacancies that our partners are looking to fill. After this, they do very well at obtaining employment in the health or social sectors in ministries of health, national or local NGOs and international organisations.
Salaries are difficult to estimate as our graduates are working in countries as diverse as Sudan, France, Sri Lanka and USA. Postings to humanitarian organisations such as Médecins Sans Frontières or the Red Cross/Crescent may require a substantial salary sacrifice. However, graduates are often interested in these due to job satisfaction, their personal ethics and values, or for work experience. Jobs in this sector can range from £20,000 to £80,000+ depending on settings and experience.
Scholarships
International applicants may apply for a competitive Commonwealth Scholarship. Find more information on scholarships here
Find out more information on how to apply for a course at QMU.
Global Health and Development at QMU