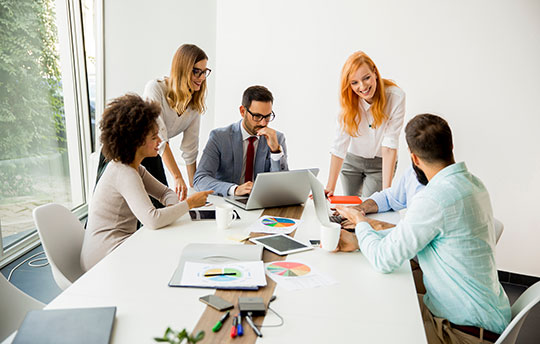 As a member of the Chartered Association of Business Schools, the Queen Margaret Business School offers postgraduate courses designed to suit those who might not necessarily have a background or experience in business. Our courses are suitable for new graduates as well as those who have been in the workplace for some time.
Our focus on offering hands on experiential learning
Our approach to teaching and research in business related subjects is distinctive in three ways:
Our commitment to providing the optimum balance of theoretical and practical approaches, with strong industry links.
Our emphasis on the need for ethical, social and ecological responsibility in business.
Our entrepreneurial focus — students and recent graduates benefit from QMU's Business Innovation Zone (BIZ) (that hosts start-ups) and on-campus Business Gateway, and many go on to create their own businesses.
Our highly relevant postgraduate business courses
We offer the following postgraduate courses:
Our MSc Accounting and Finance with CIMA, which has been developed in collaboration with the Chartered Institute of Management Accountants (CIMA), offers the opportunity for students to obtain, in one year, a master's degree, a prestigious professional qualification (CIMA Advanced Diploma in Management Accounting), and the maximum 11 exemptions from CIMA's certificate, operational and management level examinations. Graduates will have expertise in the key areas of financial reporting, management accounting and corporate finance and a critical awareness of how these areas contribute to a company's strategic management.
Our MSc International Management and Leadership focuses on best practice in management and leadership while developing students' international focus. It allows students to explore and critically appraise management and leadership.
Our MSc International Marketing responds to the growing importance of marketing and allied business functions. Students will gain a strong understanding of the international marketing role and the key factors that influence the operating environment. It will attract both those who already have a degree in business and wish to deepen their understanding of marketing and those who have a degree in another discipline and want to develop marketing and related skills. It is accredited by the Digital Marketing Institute (DMI). The DMI accreditation shows employers that your degree and learnt skills/knowledge are up to date with the latest findings in marketing and that you have received a high quality multi-disciplined degree.
Why QMU?
Queen Margaret Business School has a culture defined by strong personal relationships, informality and flexibility. We encourage our students to be truly ambitious, to experiment, innovate and take risks. To drive this we foster a culture of respectful challenge and debate, which blends research-based academic excellence with current business experience.
All of our courses will give you the opportunity and space to develop your personal management and leadership skills, and help you build a robust subject knowledge base and engage with critical debates. This will develop your confidence, making you highly employable and effective in your work.
One of our strengths is our small class sizes that enhance the student experience. This allows us to develop much more than just the traditional classroom format: the team is able to know and support you as an individual. We aim to include in our classes external visits offering a range of experiential opportunities, only available to small groups. In addition, we have speakers from industry and support agencies with whom you will be able to interact directly.
As our staff are engaged in both research excellence and the dynamic world of business, our students benefit from the latest developments in the field and can use practical and academic expertise to develop their learning and careers.
Our student-centred approach to teaching and learning
It is also possible to study some individual modules for CPD purposes. We facilitate visits to external organisations and allow you to enjoy a true teamwork experience with your peers.
The learning and teaching experience at QMU is unlike that offered by most business schools in that we want to ensure that your experience is not only student-centred, but is also focused on you as an individual.
One example of this is an opportunity to undertake either a conventional dissertation or a hands-on project. The project route means that you will work with either a commercial business, or a community, voluntary or social enterprise to use and develop your skills and knowledge. Through the process and personal journey of taking a project from idea through execution and evaluation, you will build up practical experience and develop opportunities to enhance your employability.
Strong industry links
We work continually with a wide range of business organisations and public services, as well as the third sector, individual business leaders and industry experts, to develop our courses. This ensures that, along with in-depth theoretical underpinnings, the courses are rooted in relevance and industry practice. As your course progresses, you will hear from guest lecturers, participate in visits to a wide range of industries and organisations, and engage in a range of other networking opportunities with staff and industry experts. In recent years we have engaged with: Diageo, New Lanark Heritage Centre and Hotel, Nairns, Waldorf Astoria, Edinburgh and Glenkinchie Distillery just to name a few.
Courses designed to enhance your career prospects
Our postgraduate courses are designed to enhance your career prospects by opening up a wide range of global opportunities. Our graduates take with them enhanced employability and confidence, whether they obtain a position with a multinational organisation, work within the public sector, create their own business, gain employment in the third sector or go on to further studies.
Outside the Business School, may also be interested in QMU's MSc Strategic Communication and Public Relations or MSc Media, Management and The Creative Industries.
Find out more information on how to apply for a course at QMU.
Business, Enterprise and Management Courses at QMU