Self Service Password Reset (SSPR)
Self Service Password Reset (SSPR) is enabled for all accounts. It allows you to reset your password without contacting the Helpdesk, even if your password has already expired, so you can quickly get back into your account.
This works by asking you to verify yourself using pre-registered information, such as security questions, sending a text to your mobile phone, sending a verification email, or even using the MFA app if you're already registered.
It takes minutes to set up, and can save a lot of time in the event of a password having expired.
To register for this service, please follow the guide below. All you need is an internet connection, and you can register for this service at any time.
Once you register with the service, you can access and update your security methods at any time by visiting the security information page. 
If you have already registered for SSPR, and need to reset your password, please visit the Microsoft Password Reset tool, enter your email and complete the captcha to login. You'll need to verify with one of your methods configured previously.
Signing Up
To begin visit the SSPR set-up page from a web browser on your pc, laptop, mobile or tablet.
You will have a Microsoft screen asking you to input your email address and password.
Once you are logged in you will see a page like below;
Navigate to the Security Info tab on the left hand side of the screen. Here use the Add Method option at the top of the table. You will be presented with a drop-down menu, where you can add a mobile number, security questions, email address or authenticator app.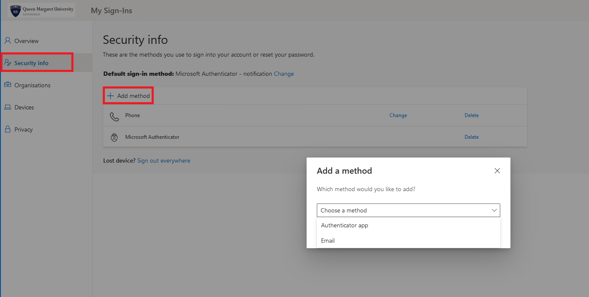 Please note, if a particular option isn't available to add, it means you have already set it up.
Once you have added at least 2 different methods of verification (but ideally as many as possible) you can log out of the portal by clicking on your initals or photo in the top right hand corner and selecting Sign Out.
If you would like to review Microsoft Documentation on signing up to SSPR, there is more information on the Microsoft Support site. Please note that not all verification methods may be available on your account.
If you have any issues with your password, resetting or signing up, please contact the Helpdesk.