How do I change my MFA device?
How do I change my Multi-Factor Authentication method or device?
If you have signed up for Multi-Factor Authentication (MFA) you can change your MFA method or device by visiting the MFA set-up page. 
If you have a new mobile device and don't have access to your old device, you will need to contact the Helpdesk (assist@qmu.ac.uk) to request for your MFA app to be reset, or your mobile number to be updated. This will enable you to set up MFA on your new device.
The Helpdesk will ask a few security questions to verify your identity before performing such changes. Please provide as much information as possible so that this can be achieved as quickly as possible.
Changing Your Device – Authenticator App
Visit the MFA set-up page, log in as usual with your QMU credentials. If you don't have your old device and you are prompted for approval, select "I can't use my authentication app right now", and you can use a registered mobile number to receive a text instead.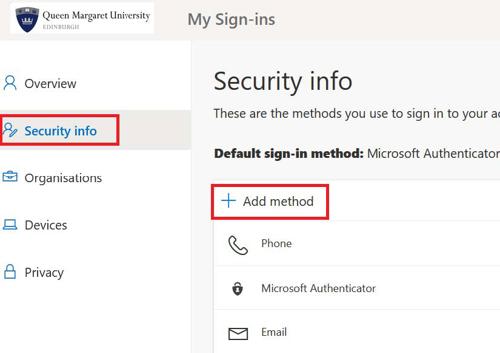 From the Security tab on the left hand side, you can select "Add Method", and proceed the same way you set up the initial device using the QR code method. If you need to you can consult the original guide if you are unsure.
Before removing your old device from the list, ensure that your new device is working correctly. Once you are confident that the security prompts are appearing on your new device, you can delete the old one from the device list.
Changing the Mobile Number
From the same security tab as pictured above, your mobile number will be noted in the "Phone" column. Simply click "Change" and update to your new mobile number. You will be sent a code to your new number to verify the change.