Inspiring Entrepreneurs Exhibition
QMU is committed to enterprise and innovation and this exhibition celebrates the pivotal role entrepreneurship plays in enhancing our student experience and delivering research impact.
This exhibition celebrates the journeys of a selection of our entrepreneurs. The photographs represent just a small number of inspiring entrepreneurs who work and study across different disciplines at various levels across QMU. We hope this exhibition will inspire others both within QMU and beyond.
Click on the thumb image below to launch our exhibition in PDF viewer >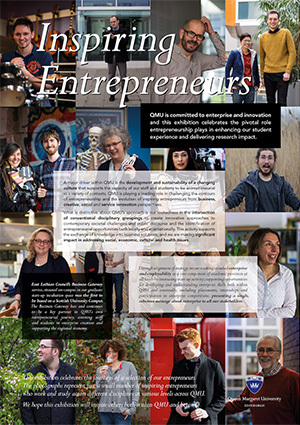 A major driver within QMU is the development and sustainability of a changing culture that supports the capacity of our staff and students to be entrepreneurial in a variety of contexts. QMU is playing a leading role in challenging the contours of entrepreneurship and the evolution of inspiring entrepreneurs from business, creative, social and service innovation perspectives.
What is distinctive about QMU's approach is our rootedness in the intersection of conventional disciplinary groupings to create innovative approaches to contemporary societal challenges and public discourse and the identification of entrepreneurial opportunities both locally and internationally. This activity supports the exchange of knowledge into business solutions, and we are making significant impact in addressing social, economic, cultural and health issues.
Through alignment of strategy, we are working to embed enterprise and employability as a core component of academic provision at all levels by: increasing start up activity; supporting opportunities for developing and understanding enterprise skills both within QMU and externally, including placements, internships and participation in enterprise competitions; presenting a single, coherent message about enterprise to all our stakeholders.
Entrepreneurship and the Curriculum
At QMU both the undergraduate and postgraduate curriculum combines theory and practice, providing students with the opportunity to think up great ideas, turn them into business plans, and deliver on new technologies, products, and services.
The photographs used in this exhibition formed part of a Photography Practice Module project.
Within QMU, our commitment to entrepreneurship prepares students for a variety of career and life experiences. Being an entrepreneur may mean starting your own business, or it may mean working in an existing business. The key is you learn to think like an entrepreneur. QMU programmes are designed to support students to identify and analyse new
opportunities, to think creatively, and to be action oriented in order to seize opportunities that add real value to their employability. These skills are important in all types of organisations, from small start-ups to large corporate settings to large public sector organisations like the NHS.
Dr Mark Gillham, Media, Communication and Performing Arts said "The entrepreneurial spirit is a mindset of how one approaches problems and proposes solutions…Good portrait photography is more about clicking with people than just clicking the camera. Taja shows an instinctive ability to reveal something interesting about her "sitters" giving us some great portraits".
Entrepreneurship Support
Business Innovation Zone and Entrepreneurship enquiries please get in touch.
Show Contacts
Useful Links
"East Lothian Council's Business Gateway service, situated on-campus in our graduate start-up incubation space was the first to be based on a Scottish University Campus. The Business Gateway has and continues to be a key partner in QMU's own entrepreneurial journey, assisting staff and students in enterprise creation and supporting the regional economy"