Cost of Living
By Queen Margaret University
Work to address the cost of living crisis, and launch of TGIThursday
We know that the cost of living crisis will be very much at the front of your minds at the moment, particularly now that winter is approaching.
Supported by the Senior Leadership Team, staff across the University and Students' Union have come together as a working group to ensure that we do everything we can to support students through the cost of living crisis. Our work is drawing on insight from our students, as well as advice from relevant organisations.
As part of this work, we are launching Thank Goodness it's Thursday (TGIThursday). This six-week pilot programme is one of a number of steps we are taking. It is designed to help strengthen our community at this time, helping enable people to keep warm, fed, and supported with their mental wellbeing over the difficult winter months ahead.  We cannot fix everything, but through TGIThursday we can try to take some of your stress and worry away.
What is TGIThursday?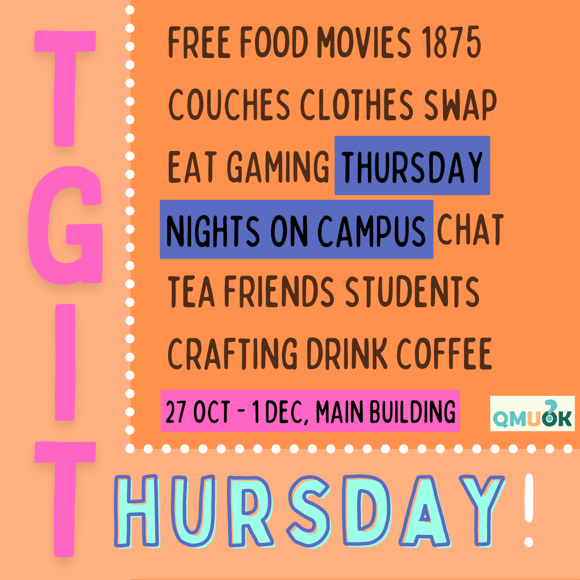 Through TGIThursday, we are making sure that for one evening a week you have the option to hang back on campus before heading home, and, in doing so, that you don't have to cook a meal or heat your home. Plus, if you come along to TGIThursday, you can also choose to take part in a social or a wellbeing activity if you're looking to connect with others. Alternatively, you can find some quiet connection with yourself with the meditation and yoga that will be on offer in our wellbeing space on the night (mats provided for those that don't want to bring their own).

The first TGIThursday will also feature the Big QMU Clothes Swap (more information on the QMUSU website). Each subsequent TGIThursday will also have a theme, eg board games, movies or quiz nights. At each event, there will meal kits to take home and enjoy over the weekend, and opportunities to win prizes (£10 vouchers for Maggie).
Join us at TGIThursday, launching on Thursday 27th October in 1875 from 5-7pm. There is no need to pre-book – just turn up on the night!
TGIThursday is a joint initiative between the Students' Union and the University. Thank you to all the SU, academic and professional services staff who are volunteering to make this initiative happen. (If you are a staff member interesting in volunteering, please fill in the TGIThursday Staff Volunteering Form.)
What else is being done to help students with the cost of living crisis?
While we are confident that TGIThursday will be of real benefit to all who participate, rest assured we do appreciate that it can only be part of a bigger response to the cost of living crisis.
We will update the University community as  further actions are put in place. In the meantime, we have put together an initial cost of living web section with information on ways in which we trying to help students with the cost of living.  We hope that you find this useful.