Global pandemic fails to halt QMU graduate film success
By Press Office
Despite the global COVID-19 pandemic causing no shortage of challenges for those working in the creative industries, two Film graduates from Queen Margaret University (QMU), Edinburgh, have achieved considerable success at film festivals worldwide.
Edinburgh-based filmmaker Alexandra Gilbert found herself stuck in Ukraine for over a month while working on her documentary short, Welcome to Chernobyl, after lockdown came into effect. Fortunately, as a result of Ukraine's own lockdown measures, she was able to return to the rented accommodation in Kiev that she had been staying in while making the film and continue to attend classes online, while also being able to gather some additional drone footage.
The QMU Theatre and Film graduate's film follows Tanya, a tour guide working in the Chernobyl Exclusion Zone. It has been entered into various film festivals, winning Best Documentary Film at the Screen Power Film Awards, Best Female Director at Indie Film Fest, Best Documentary from Monthly Indie Shorts and an Award of Recognition for a documentary short at The IndieFEST. The film has also been nominated for Best Short Documentary at the Kalakari Film Fest and reached the semi-finals of the Dumbo Film Festival and the Chippewa Valley Film Festival.
"As chaotic as the whole experience making this film was, I am beyond grateful that it happened," said Alexandra. "I have learnt so much from creating this project as a filmmaker, but also about the reality of the devastating disaster in Chernobyl and those who experienced it. Listening to people's stories is so valuable to me - I will never forget this adventure, and I can't wait for the next one!"
Margherita Mazza, who left QMU last year, has also seen her graduation film ALBA collect various accolades, such as the Best Student Film award at Bridge Fest and Best Student Short at Accord Cine Fest, as well as an Honorable Mention at the New York International Film Awards (Best Student Film) and Oniros Film Awards. Margherita's film also made the official selection for the Toronto International Women Film Festival, Chicago Indie Film Awards, Montreal Independent Film Festival and the New York City International Film Festival (NYCIFF), in addition to reaching the finals of the Vancouver Independent Film Festival and semi-finals of the Los Angeles Film Awards (LAFA).
Margherita said: "I decided that I wanted to focus the film on the topic of 'loss', and I wanted to narrate the emotionally complex and conflicting relationship between two brothers. I deliberately chose to not describe in detail their relationship or what happened in the past because I wanted the audience to be free with their interpretation and maybe to empathise with the characters." 
Walid Salhab and Graham Drysdale, Lecturers in Film and Media at QMU, said: "We are thrilled to hear of the ongoing success of both Margherita and Alexandra's films on the international circuit. It has been a pleasure teaching and working with them during their time at the University, and we wish them all the best for their filmmaking careers!"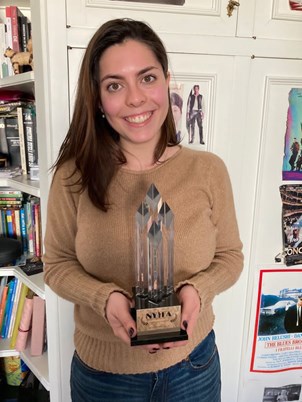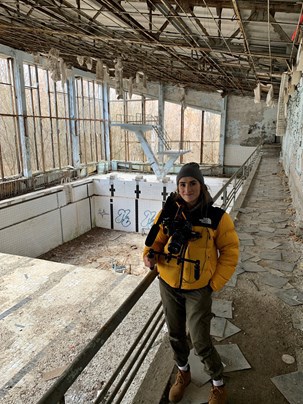 Above (from left to right): Margherita Mazza with her New York International Film Awards trophy, and Alexandra Gilbert on location in the Chernobyl Exclusion Zone.
Banner image (from left to right): Alexandra Gilbert on location in the Chernobyl Exclusion Zone and a still from Margherita Mazza's film ALBA.
Media Enquiries
For media enquiries or to access one of our experts.
Show Contacts