Stories of COVID – online exhibition shares our lives in lockdown
By Press Office
A new online digital exhibition which captures the lives of staff and students at Queen Margaret University throughout the pandemic has gone live.
'Stories of COVID' is a creative project which has captured many of the real life experiences of staff, students and the wider university community during the first lockdown period in 2020.
Everyone has a story to tell about their experiences of living through the pandemic – some are tragic, some heart-warming, others joyous. The online exhibition brings together a highly diverse range of experiences across the QMU community which people have told through poetry, photography, artwork, film and audio clips, posters and monologues.
Dr Kath MacDonald, Honorary Lecturer in Nursing at Queen Margaret University and Director of ListenUpStorytelling, has led the project. She explained: "We felt it was important to capture this significant time period in the University's history. Since our beginnings in 1875, Queen Margaret University has sought to make a difference to our local and wider communities. During these challenging times of COVID-19, it has been inspiring to see how the university community has risen to the challenges of the pandemic, artistically and pragmatically. We are proud of the archive we have created and want to showcase the diversity of skills and talent evident in this exhibition. Contributions for the exhibition were submitted under the three themes - Trauma, Trivia and Joy.
"The Project aimed to give a route for staff and students to express their feelings and thoughts from the first lockdown. Some contributors shared the stresses of having to adapt to teaching and learning methods in a different way and the challenges of dealing with new technology. Others shared their experiences of working in acute hospitals, care homes and in people's own homes. A number clearly enjoyed the opportunity to connect with nature or indulge their creativity. Some opened up about the impact of a lockdown spent in isolation; while others shared stories of new connections, strengthened communities, family relations, and acts of kindness. It's a melting pot of different experiences and human emotion: loss, loneliness, separation, tragedy, community, humanity, creativity, love and hope!"
During lockdown, social connections changed and people began to really explore the areas they lived in. Queen Margaret University was still catering for its student population who were living on campus, but its catering outlet, run by BaxterStorey, became the "go to" place for the local community – families on bike rides stopped for lunch at the students' union café; locals came in search of self-raising flour for baking; and single people watched the world go slowly by whilst enjoying a coffee in University Square. New friendships were made as local residents began bonding with students and staff whilst enjoying the campus grounds.
Dr MacDonald explained: "As people's normal routines were disrupted, they began exploring different options. Local visitors and dog walkers started enjoying walks through the campus grounds; one local Musselburgh resident was encouraged to get involved in the University allotment; and another went on to enjoy an alternative birthday celebration at a sun drenched picnic table in University Square – marking her birthday with a bacon roll in the company of staff from the University and BaxterStorey (QMU's catering partners). It is stories like this that are part of the exhibition, and it is heartening to see how good things can often come out of bad situations."
Sir Paul Grice, Principal of Queen Margaret University, said: "It has been a privilege to be part of this project's steering group which essentially acts as an archive collection, documenting one of the most challenging years in the University's history. It tells a collective story of the University, made up of individual moments and tales which will resonate with many."
Sir Paul concluded: "I am proud to be part of such a resilient, capable, kind and inclusive community which strives to make a positive impact on the world that surrounds us, and we are pleased to share this exhibition with the public. Stories of COVID really does have something for everyone."
This virtual art exhibition, which has been sponsored by the University's senior management team, will be the first of several creative formats that the University will share from its Stories of COVID project.
Instructions on how to use the digital exhibition.
Access the Stories of Covid - Digital Exhibition 
We thank Dr Kath MacDonald and her Social Enterprise ListenUpStorytelling for developing and leading this project, and a special thanks to the creators of the online exhibition; Courtney Bates and Jasmin Geissen who are studying for an MA in Arts, Festival and Cultural Management at Queen Margaret University.
Notes to Editor

For further media information please contact Lynne Russell, Communications Manager, Queen Margaret University, E: lrussell@qmu.ac.uk; M: 07711 011239.
Media Enquiries
For media enquiries or to access one of our experts.
Show Contacts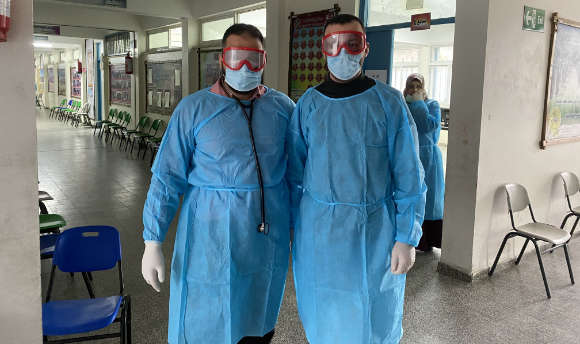 Stories of COVID: online exhibition of the QMU experience
Exhibition - Digital Instructions