Two finalists from QMU set to compete in Converge Awards Final 2019
By Press Office
Two finalists from Queen Margaret University (QMU), Edinburgh, are gearing up to compete in the final of Converge 2019, Scotland's leading entrepreneurial development programme for Higher Education.
Jake Elliot Hook's company S'wheat, and Martin Craig's company Sculpture Placement Group, will face competition from 16 other finalists in the last stage of the Converge Awards Final which takes place at the iconic V&A in Dundee on Wednesday 25 September.
S'wheat is the world's first reusable water bottle made from plant-based material. The idea was developed as a way to fight plastic pollution and stop single-use plastics from entering our oceans. Carefully engineered to enable access at both ends of the bottle allowing for easy, S'wheat will also never harm the environment as it can biodegrade naturally. If it ever did end up in landfill or the ocean, it would biodegrade hundreds of years faster than plastics and steels.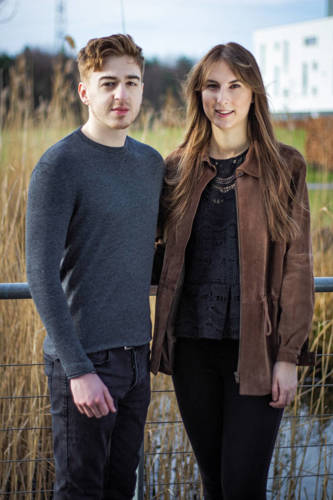 Jake Elliot Hook and Amee Ritchie of S'wheat.
Sculpture Placement Group's mission is to prolong the life-span of sculptures, bring sculptural joy into people's lives and offer economic and practical solutions for artists. The company pilots new models for commissioning, collecting, or engaging with sculpture; encourages sustainable practices within the arts; unlocks potential of artworks for artists' future benefit; places sculpture in non-art contexts and communities; and runs projects such as the Sculpture Adoption Scheme.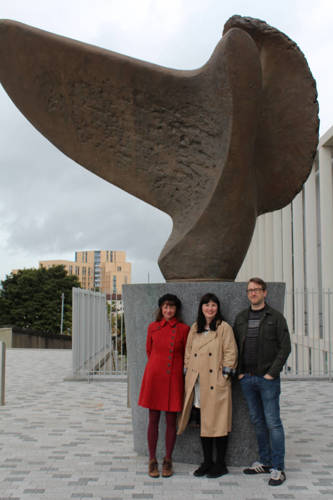 Kate Robertson, Michelle Emery-Barke and Martin Craig from Sculpture Placement Group.
Finalists are now chasing a prize package of equity-free cash and in-kind business support totalling £220,000 which will be shared across three challenge categories: Converge Challenge, Creative Challenge and Impact Challenge. S'wheat and Sculpture Placement Group will each face competition from four other finalists in the Impact Challenge and Creative Challenge categories, respectively.
Miriam Smith, Business Development Manager at QMU, said: "I am incredibly proud of Jake and Martin for reaching this stage of the competition. Their businesses are innovative and inspired – both have been developed out of recognition of some of society's most urgent challenges such as climate change and social inclusion. On behalf of all at QMU, I'd like to wish them both every success in the final stage of the competition."
Notes to Editor
For media enquiries, please contact Karen Keith, Media Relations and Content Officer at Queen Margaret University, E: kkeith@qmu.ac.uk, T: 0131 474 0000.
Media Enquiries
For media enquiries or to access one of our experts.
Show Contacts