QMU Personal Academic Tutor
PALS
PALS (Peer Assisted Learning) operates in several different subject areas at QMU. We do sessions in all programmes in the School of Arts, Social Sciences and Management (ASSaM) and for BSc Paramedic Science in the Health School. Check back with us if you are in a different subject area, as we are constantly expanding.
What is PALS?
PALS Sessions are student led learning sessions. They are a relaxed, fun and informal way to receive support for learning at QMU. Students can use a session either to help them understand something they are struggling with, or perhaps to consolidate and develop the learning they have already completed. We also run revision sessions so they can brush up on their knowledge in the run-up to exams.
The students who run the sessions are known as PALS Leaders and they complete extensive training with the PALS Coordinator, who also offers Leaders support with design and delivery of sessions, and debrief sessionsafterwards. Peerobservationisalsocarriedouttoensurequality control.
PALS sessions run on a regular basis throughout term, and students will be notified by email, HUB announcements and lecturers about upcoming sessions. Some sessions are also advertised on Student Central.
The sessions are not mandatory – some people just pop along to a session when they have a particular area of study they are struggling with, while others attend every session because they appreciate the extra support and the experience of the PALS Leaders.
You can find out more about PALS and you can contact us at PALS Email Address
In my role as a PAT, what are my responsibilities towards my students?
You should act as a facilitator and 'mentor' to your students, encouraging them to optimise their learning opportunities at all stages of their student journey.
You should help your students to identify the graduate attributes which they are developing throughout their studies and articulate them clearly, for example in personal development plans and portfolios.
When appropriate you should identify when a student would benefit from the support and signposting to other professional services within QMU such as Student Services who will be able to provide specialist supports. Student Services will also be able to assist with any external referrals for additional supports. The Students' Union can also provide additional and independent support.
You will act as advocate on behalf of your students and in this role can be expected to make statements, either written or oral, to the Programme Committee (reserved business), Board of Examiners, or others as requested to do so.
Although most students will be assigned a PAT there are some exceptions, such as students undertaking micro-credentials or otherprogrammes of study that do not lead to a named award. As these students will normally be studying with us for less than a full academic year, they will not be assigned a PAT and will have more limited and mainly online access to Student Services support. For these students, any queries regarding their studies will need to be directed to the relevant module coordinator in the first instance.
Graduate Attributes
A major part of your role is to help signpost the Graduate Attributes that your students are developing during their time with Queen Margaret University. For ease of reference, here they are:
You can expect the following from your PAT
Your PAT will:
Be a friendly and helpful first point of contact with the University.
Make contact, at least once per semester, to arrange an individual PAT meeting with you. Semester one meetings must happen within the first six weeks of semester. This means that you can expect to hear from your PAT within the first three to four weeks of semester one with a note of the arrangements. Some PATS may also arrange group meetings, which are additional to (and not a substitute for) the individual meetings.
Attend all meetings on time and let you know if they unavoidably need to change the date/time. 
Stay in touch with you between meetings, as appropriate/agreed with you at PAT meetings.\
Respond to messages from you within a reasonable timeframe.
Set aside reasonable time for the meeting – as a guideline your PAT will plan for around 30-45 minutes, although the exact length of the meeting will depend on the topics you need to discuss.
Offer advice and guidance on academic and pastoral matters.
Act as a link with other members of academic staff and as an advocate for you in appropriate circumstances.
Be aware of the broader network of support services at QMU (as well as some external services) and refer you to these services, as appropriate. You can find information on QMU Student Services
Make sure that there is a record of each meeting. This record is held electronically – usually in email format. Meetings records can be quite brief and will not contain confidential information – unless you agree to this
Follow up on any actions that are agreed through the PAT meeting.
Provide an opportunity for you to comment on the content of meeting records before these are filed as a record of the discussion.
Maintain confidentiality in line with the requirements of General Data Protection Regulations (GDPR).
How are PATS Allocated?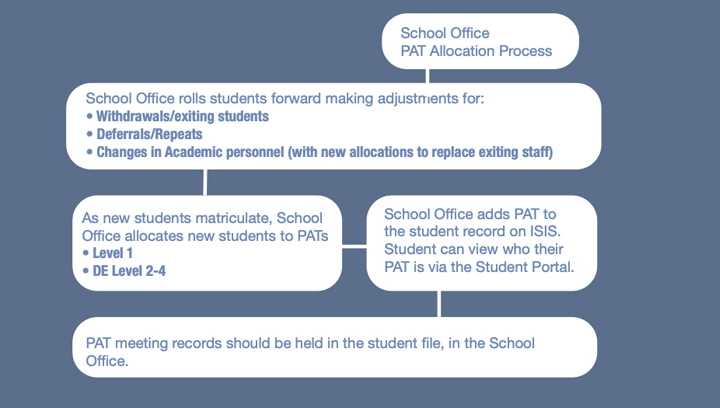 When should I hold meetings with my students?
You are required to offer an individual meeting to each of your students within the first 6 weeks of semester 1.
Thereafter, you should offer to meet at least once a semester, or more often if you or your students feel it would be helpful.
If a student chooses not to attend a PAT meeting, it is an expectation that they let you know the reason for this. Whilst we strongly encourage student participation in the PAT Scheme, we recognise that occasionally a student may not wish to take up the opportunity.
You might also consider keeping contact with your students via email, or through setting up a Facebook page or Twitter account for your group of tutees.
The study cycle diagram on the next page will help you pinpoint times when it might be useful to meet to provide students with practical assistance or simply encouragement.
Study Cycle Diagram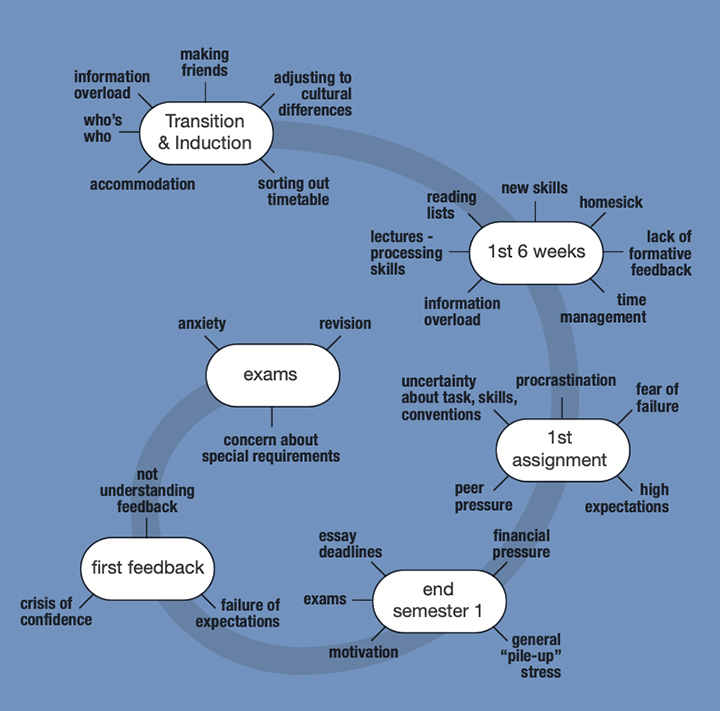 We also know from research about our students that they feel they need extra support at the following times:
In the first few months, when things often feel bewildering and they may be homesick
When they are facing their first assignment or placement
In the lead up to Christmas
Late in January when they receive examination results.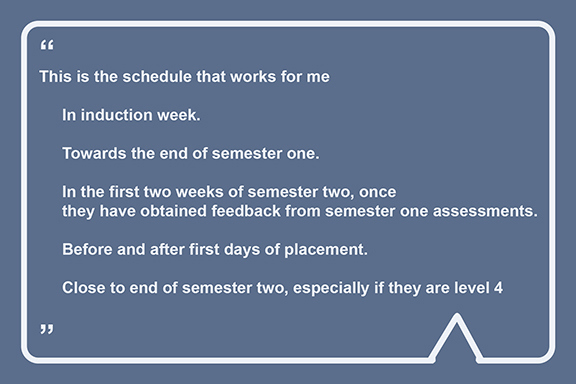 What format should PAT meetings take?
As a minimum, all PATS will offer each student one PAT meeting per semester. You may also wish to schedule some group PAT meetings. These will be in addition to the individual meetings. One suggested model is provided below.

One-to-one meetings
it is a minimum requirement that you offer to hold a one-to-one meeting with each student once per semester. You should make contact with students to explain the PAT arrangements within the first three to four weeks of semester one. Whilst group meetings can be useful to supplement the one-to-one meetings, students may be reluctant to bring up real issues in a group setting. You will probably cover things very much along the lines of the diagram on the next page.
It is important to be pro-active in organising meetings with your students. This is one way of signalling to them that there is more to the PAT system than simply crisis management. In turn, this may encourage them to attend meetings more regularly and take a more active role in planning for meetings and taking action after them.
Sometimes the layout of our building can make it difficult to find appropriate spaces for individual meetings with students. If it is proving difficult to find a room in which to meet, bear in mind that Student Services have a small numbers of rooms that can be used for this purpose. You could check with them whether you could make use of one. You can also meet the student online via teams if meeting in person is difficult.
The University's Academic Workload Allocation Methodology suggests an allocation of three hours per year for each student. This allows for two meetings of up to an hour and preparation time. Typically, meetings take around 30 to 45 minutes. However, in practice the duration and number of meetings per student will vary, depending on the matters to be covered.
Group meetings
You may choose to do your first PAT meeting as a group session. Research shows that providing opportunities for early social and academic integration with peers and staff can be an effective means of ensuring student retention and success. A group meeting with all PAT students can help achieve this.
Do's and Don'ts for your first group meeting
keep input and general information brief – students are already overloaded
keep the session social and interactive.
make time at start and finish for the students to interact.
refer to support services as a positive resource not as an emergency service.
encourage individual follow-up appointments in semester 1
notice who's involved and who's not, anyone who looks uncomfortable or unsure and follow up if necessary.
give out loads of information.
spend all the time talking or see it as a mini-lecture.
assume that a nil-response to your questions means that the students don't have any queries.
Using icebreakers for group meetings
A well designed icebreaker should facilitate social contact and encourage an atmosphere where students can ask their own questions. Encouraging new students to talk and listen to each other is a quick and effective way of providing some basic reassurance that other students feel equally baffled/unsure/ reassured by aspects of the transition.
There are many possibilities for icebreakers and you'll probably have your own favourites but here are a few suggestions:
In pairs, think of two questions that you would really like answered by the end of the session.
Join up with another pair and see collectively which questions you can answer yourselves.
Put questions you're unsure about and/or don't know the answers to on a post-it and return it to the facilitator who can deal with them in the rest of the session.
In pairs, think of one positive, and one not-so-positive experience from your first week or two. Feed back to group – PAT can comment or just encourage comparisons
In pairs introduce yourself to your partner and then they introduce you to the group (this could be daunting for many new students – but useful in other tutorial contexts)

Part-time and distance-learning students
Part-time students may need the input and encouragement of a PAT even more than full-time students. It is very important, therefore, that you arrange to meet with your part-time students regularly, even though these meetings may take more time and effort to arrange.
Likewise, the studying success of distance-learning students can depend heavily on a sense of belonging and the support offered by the institution. The role of the PAT is crucial in helping these students overcome their sense of isolation and keeping them motivated.
You may find that you need to hold your meetings by telephone or Teams, or keep in regular contact via email, in order to give part-time and distance-learning students the same level of support that you give full-time, on-site students.
Meeting templates, which can be used to guide discussions, are available on the Quality web site A-Z under P (Personal Academic Tutor) There is one form for initial meetings and another for follow up meetings. These forms have been developed by staff with experience of being a PAT and can be adapted to suit your requirements.
The template provides a structure for the session which allows a student to feel 'someone here listens', even when contact time is limited. Then you need to put into practice your most effective listening and questioning skills.
Guide to Student PAT meeting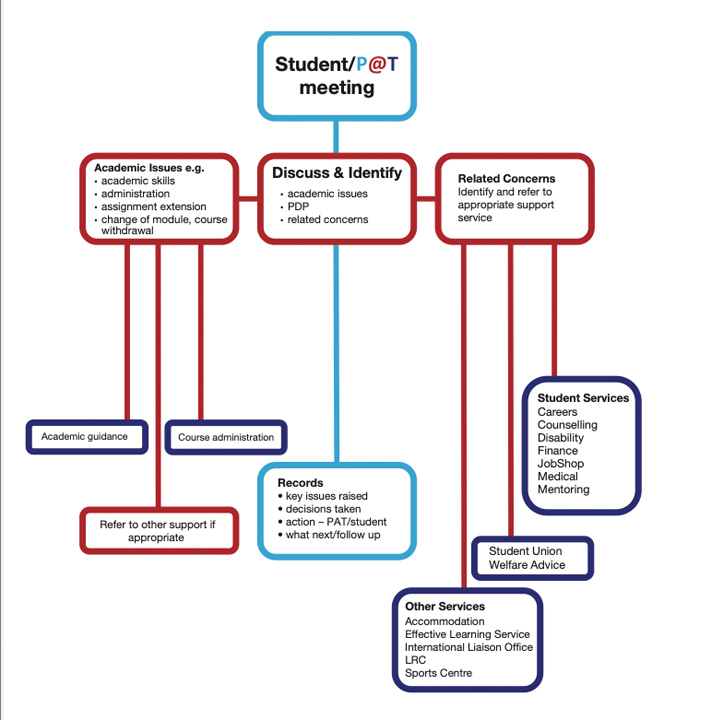 Listening and questioning techniques
The techniques below are all worth bearing in mind, as they not only help pick up any early concerns which can affect student retention, but encourage students to develop confidence and independence in thinking through their own solutions.
Paraphrasing a concern back to a student helps their sense that you are listening, and invites clarification

Open questions encourage further exploration, and the voicing of the 'real' issue. E.g.

Could you say more about this? What are your feelings about this? What would you like to happen next?

More specific 'closed' question, expecting a precise answer, are important for clarifying specifics

When did this happen?

How long will this take?

A brief summing up of what has been said helps the student gain an

overview, and ensures you are both clear about the key issues

Talking through options is important, even when, in some cases, these may be limited. Although guidance and input from a PAT is important, students should be allowed to identify and think options through for themselves.

The ideas above help map out the progress of a possible brief meeting. If a student needs further time and thought on an issue, it is probably best to arrange another brief meeting, although limits and deadlines, and a clear sense of the structure and what it allows, is more helpful than well- intentioned advice to 'take your time'.
Meeting with student in distress
Student distress may come to your attention in a variety of ways. Some students will tell you if they are experiencing difficulties and will ask you directly for help.
You may also realise from changes in someone's behaviour, appearance, attendance or academic performance that they may be in some difficulty.
You may notice evidence of drug or alcohol abuse or self-harm.
You may also be alerted to problems by concerned classmates or friends of the student.
It is important to meet promptly with students once you are aware there might be a problem. Early intervention is crucial in tackling any issue that is causing a student distress/difficulty and can help to minimise the effect of students' personal circumstances on their academic performance and progress.
Do not feel that you alone have to "solve" the issues that are causing the distress and if you would like support in addressing the student or want to talk the issues through with someone, Student Services can help with this. A confidentiality agreement is in place enabling Student Services and PATs to discuss students at risk to ensure the best support is provided for the student.
If you as a PAT feel out of your depth or overwhelmed with what the student is telling you, please feel free to contact Student Services to discuss. They will be able to provide support to the student and support you in your role.
If you want more information about how to support students in distress please access the "Distressed Student Guide" on the intranet  or contact Student Services.
Meeting templates
Finding a way into discussions at PAT meetings can sometimes be difficult – particularly for the first meeting. To break the ice and help get things started, you can provide your students with a meeting template that they can fill in and bring with them to your PAT meetings. A basic meeting template developed by staff who have PAT experience is provided at https://www.qmu.ac.uk/about-the-university/quality/quality-a-z-index/. The form is particularly useful in helping your students to recognise positives - the broader skills they are developing and their achievements - at a time when they may be finding the university experience daunting.
You can either download and use this form as it is, or modify it to suit your specific requirements. Whilst it is not mandatory to use one of the published meeting templates, they can make it easier to keep records of your PAT meetings.
Keeping records of your PAT meetings
You should agree with each student the arrangements for record keeping. Some PATS write the record themselves and provide it to the student for comment and agreement. Sometimes, the student is responsible for preparing the meeting records. Records can be quite brief, for example in the form of an email summarising key points and actions. You should lodge a copy of any completed meeting frecords and agreed action plans with the School Office. These will form the basis of discussions for subsequent meetings, and will also form a permanent record of your meetings, so that if at some stage the student has to have a new PAT, they will be fully informed.
As these meetings are an essential part of our support and development structure for students, it is important that students are followed up if they miss a planned meeting. You should email them to find out what their reasons are and reschedule the meeting. If this still does not yield results, this should be flagged up to the Programme Leader.
When sending records to the School Office or communicating with them or students about PAT meetings, you should bear in mind the confidentiality principles on the pages which follow.
Confidentiality
At QMU, good practice in confidentiality is governed by the Freedom of Information Act and the Data Protection Act/GDPR. The guidelines below are based on general good practice. For further guidance, PATs should approach the University's Data Protection Officer. Ensuring confidentiality is vital in encouraging students to come forward and seek help when they need it. Students need to know that any information they give will be treated with respect and passed on only with their agreement to those who need to know.
If a PAT is in receipt of sensitive information which has implications for the student's academic progress, the student needs to be clear about what will happen with that information. This includes who is told, what they are told, why they are told, and where the information is to be held or stored. The student needs to understand any steps to be taken, and give their consent to the information being passed on to the appropriate parties.

If the information does not have immediate implications for their academic work, the PAT may want to recommend another source of support or information. The PAT will need to discuss with the student what information to share.

Confidential information about students should be marked 'confidential'.

For safety reasons, it is never a good idea to promise to keep information secret. There are circumstances in which there might be a need to break confidentiality without the student's consent:

If it is felt that there could be safety issues for the student or for others

If there is a legal requirement to disclose information.
There is an information sharing agreement in place which enables student services staff and PAT's to share information when there are concerns about a student. 
Where can I refer my students if I cannot help with the issues raised?
The PAT role is to provide advice, guidance and support on academic matters, but students will often raise other support issues. In specific instances, when boundaries of responsibility seem unclear, working through a few stages on an issue can help you both to identify a course of action:
Encourage the student to focus on how an issue might be affecting academic performance
Explain and arrange the practicalities that can be put in place by subject staff and be clear about any limits to these, for instance in the case of extensions

Identify further support needs and suggest who to contact, or provide information for the student to follow up.
You should use all the University services at your disposal to get your students the help that they need. Student Services provides support to student with a range of issues such as finance, wellbeing, counselling, disability and career and employability. Students may need your encouragement and support to understand that contacting these services is a positive way forward and not a sign of failure to cope.
In the pages that follow, you will find a summary of the University services available and contact details for all of them.