Responding to the Pandemic
Providing provisions for the local community during lockdown, bolstering the NHS at the height of the pandemic, cooking healthy meals for low income families and conducting essential coronavirus research have all been part of QMU's response to the global pandemic.
Good things can come out of bad situations, but there is no denying that 2020 was a shocker of a year. No-one could have envisaged all of the challenges that the pandemic would bring. However, if we look back at QMU's history, we have a reputation as a trailblazing institution which has tackled some of the most pressing issues facing society. In 1875, the institution grew out of the need to address two important areas – the diet of the urban poor, and educational and career opportunities for women.
Our mission, right from the onset, has been to make a difference, and we have a proud history of serving the community and working to improve lives. Over the years, we have remained true to our roots. Our core values have prepared us well to rise to some of the challenges created by COVID-19, and our tremendous sense of purpose has propelled the QMU community to work tirelessly in its efforts to improve the world around us.
There have been huge obstacles along the way, but making a positive contribution is part of QMU's DNA. It's what makes us tick.
We are delighted to be able to share some of our stories to give you a flavour of the ways in which our incredible students, graduates, staff and supporters have contributed to the national effort in responding to the global pandemic.
Health students drop everything to support the NHS
Suddenly, it was all go! While the rest of us were getting used to working from home, QMU's healthcare students took up the charge, responding to urgent calls from the Scottish Government to join Health Care Professionals Council (HCPC) emergency registers.
Before the end of semester, students from QMU's Nursing, Physiotherapy, Occupational Therapy, Therapeutic Radiography, Diagnostic Radiography, Speech & Language Therapy, Dietetics and Podiatry were catapulted into positions in the NHS and social care settings. What's even more incredible is that each and every one of the University's fourth-year health sciences students who were eligible to register with the HCPC wasted no time in doing so.
Even though these are uncertain times for everyone, QMU healthcare students have risen to the occasion and continue to play a vital role in the rehabilitation of those recovering from COVID-19. Any thoughts of holidays or graduation celebrations were quickly replaced with more pressing issues such as relocation plans and role preparation. It would be a career start like no other, but without hesitation, the University and students worked together to help the new starts quickly slot into healthcare roles across the country.
One of the many QMU students who suddenly found themselves contributing to the national effort was physiotherapist Sophie McAuliffe, who back in April, said:
"There is going to be a greater role for physiotherapists in the coming weeks and months because people who become unwell with COVID-19 will not only need us while they are sick, but afterwards too as they begin rehabilitation. Starting work in this field in the midst of a global pandemic is going to be a challenge, but it's one I think QMU has equipped us for."
Outside of the School of Health Sciences, QMU students have found other ways to help the NHS in the fight against the virus. A prime example of this is the 'Race Around the World' challenge, hosted by the Men's Rugby team and run in collaboration with all QMU sports clubs and societies. Open to the whole University community, participants were tasked with running 40,000km collectively (equivalent to 34 cities across 30 different countries), tracking their progress using the exercise monitoring app Strava, with sponsorship money going to NHS Charities Together. 
Lewis branded local hero for Empty Kitchens, Full Hearts initiative
It's heart-warming when QMU students get the recognition they deserve, and Lewis MacLachlan certainly touched the hearts of many with his selfless efforts to cater for people in need during the pandemic.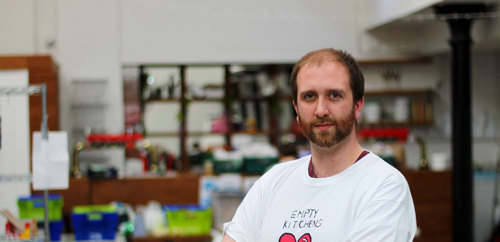 Before the COVID-19 outbreak, Lewis, a former chef, was studying towards his MSc Gastronomy at QMU, but as we moved into lockdown, he put his studies on hold to set up Empty Kitchens, Full Hearts. This volunteer-led initiative uses furloughed or redundant chefs in empty or unused kitchens, who divert surplus food from restaurants and businesses and transform it into healthy daily meal packs. The healthy packs are then delivered to people who have been shielding, isolating or living in poverty.
The initiative helps ensure that people who are most in need receive daily deliveries of healthy meals on a free, non-judgemental basis. Lewis's selfless efforts to respond to the crisis and fight food poverty where recognised by the Edinburgh Local Heroes Awards, run by the Evening News.
At the online award ceremony, he was named Health Champion of the Year. However, the judges felt his efforts were worthy of the top accolade and presented him with the Local Hero Award.
To date, Lewis's Empty Kitchens, Full Hearts initiative has provided over 500,000 meals to people all over Edinburgh on a non-judgmental and non-profit basis.
Supporting the local community
The issue of where to buy flour and toilet rolls was a hot topic on community social media sites during lockdown. When supermarket shelves were bare, the local community could always rely on BaxterStorey, catering services partner at QMU, to provide essentials for students and local residents.
At one point, Maggie's Bar and Café at QMU's Students' Union, was almost the only place in Musselburgh where locals could lay their hands on self-raising flour! But staff from BaxterStorey didn't just look after the catering needs of the immediate QMU community, the team worked tirelessly supporting various charities and community groups during the most challenging of times.
Along with the Students' Union, ResLife and the University's UCU branch, they put together over a hundred wellbeing packs for students in University accommodation.
They also supported the social enterprise Empty Kitchens, Full Hearts, to provide over 1000 packs of soup for people in need. One of the BaxterStorey chefs covered shifts in the kitchens of a local residential home, while the company's manager collaborated with Resilient Musselburgh to help create access to essential provisions for those who required urgent assistance.
Sweet surprise for NHS staff
Across the UK, people gained a newfound respect for our NHS. As a nation we were desperate to thank them for their efforts and support their resilience as essential front line workers in the battle to save lives.
To show her gratitude, one International Management and Leadership graduate was instrumental in securing a donation of 60,000 sweet treats for frontline healthcare staff.
Tina Cunningham, Community Support Director for Border Biscuits, arranged for the gifting of several thousands of boxes of the company's biscuits to NHS staff in the Lanarkshire and Lothian regions.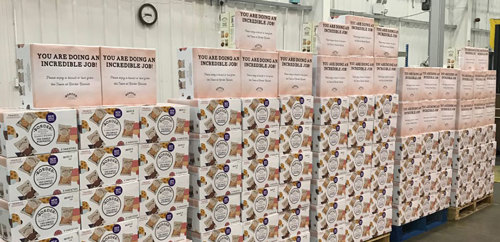 Richard Bent, Senior Lecturer at QMU's Business School, contacted his former student with the idea of supplying a staff hub at St John's Hospital in West Lothian with boxes of their signature product. From there, the initiative quickly escalated, with the company donating biscuits to several different healthcare providers through its Border Community Support Foundation.
Partnership working makes all the difference
The power of partnership working should never be underestimated, particularly during times of crisis.
QMU values the strong and trusting relationships it has with its supporters, and we were delighted that one of our most impactful donors, Santander Universities, immediately stepped up and repurposed £35,000 funding to support our students who were experiencing financial hardship due to the pandemic.
The organisation also provided £50,000 to both QMU and Edinburgh Napier University to supply thank you gifts to 1,400 students who helped the NHS in the fight against COVID-19. QMU's Nursing and Allied Health Professional students were able to apply to receive a luxury hamper full of delicious Scottish produce.
The hampers were created by David McVey, a graduate of QMU's MSc Gastronomy and owner of Edinburgh's Artisan Larder Scotland.
David said:
"We have loved making up the hampers and hearing back from students who have enjoyed the selection of gifts including a range of Scottish cheeses, Edinburgh Honey, Tobermory trout and locally produced tea, coffee, biscuits, and preserves. We wanted to make them feel extraordinary and we are thankful that this support package has contributed to our business and allowed us to do something special for others who are playing a critical part in the country's recovery."
Coming from a family of nurses, David's mother and sister have both worked on the frontline during the pandemic.
He confirmed: "I am grateful to all the nurses and healthcare professionals who are at risk everyday so that we can be safe. I hope our hampers provided a little respite."
This initiative was part of a much larger Santander COVID-19 emergency support package at QMU, totalling over £75,000. The additional funding was used to support student start-up businesses and other students who were facing financial hardship due to the pandemic."
QMU is indebted to Santander for all it has done to support our students during these unprecedented times.
Tutoring initiative helps pupils catch up with learning lost during lockdown
Over lockdown, education authorities became aware that many school pupils from disadvantaged backgrounds had fallen behind in their learning.
There are many reasons why a young person may have struggled to keep up with schooling, but mental health problems, poverty and caring responsibilities could be some of the reasons why their families were also unable to cope.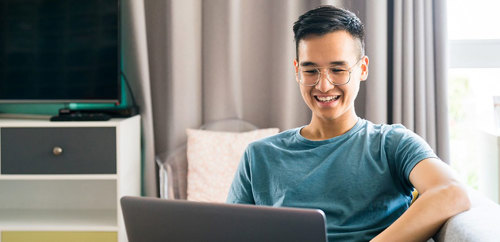 The MCR Pathways Lockdown Survey 1 of disadvantaged and care-experienced young people found that 68% of those surveyed had done no school work during lockdown. Without urgent intervention, it was feared that pupils in East Lothian may never catch up – putting them at significant disadvantage in both the short and long term.
In response to this crisis, QMU joined forces with the STV Children's Appeal, East Lothian Council and a local family charity, to launch the East Lothian Tutoring Initiative.
The project is supporting S4 – S6 pupils in all six secondary schools across the county.
Callum Maguire, Head of Widening Participation and Outreach at QMU, is passionate about closing the attainment gap and supporting young people to achieve their potential no matter what their background.
He said:
"We are delighted that the STV Children's Appeal and a local family charity is financing our delivery of online tutoring which will provide one-to-one support for senior years' school pupils"
The initiative has also created jobs; young graduates, who may have struggled to secure employment due to the pandemic, have been employed as tutors to support the school pupils in key areas of their learning.
Thomas Kelly, Head of Development and Alumni Relations at QMU, said:
"The East Lothian Tutoring Initiative is showcasing an area of work which has never been done before on this scale, and we are excited to see the immediate impact on individuals, as well as the longer term learning outcomes. "Without the incredible support from our two major donors we would be unable to tackle the inequalities facing some of our younger population, and provide them with the fighting chance that they deserve."