Ready, set, go: researching for a new Paralympic sport
Have you heard about RaceRunning? The sport was invented in Denmark in the '90s by two Paralympic athletes and it enables people with limited mobility to swap their wheelchairs or walking aids for a running frame so they can get moving.
The running frame (sometimes called a running bike) doesn't have any pedals but it does have three wheels, a saddle and trunk support, so it supports users while they walk or run. RaceRunning has been gaining in popularity, with clubs and competitions popping up around the world, for a while now.
In 2019 it made its debut into the world of international sporting competition at the World Para Athletic Championships in Dubai, and on 20 November 2020 it was announced that RaceRunning (recently renamed Frame Running) is on the provisional programme for the Paralympic games in Paris 2024.
QMU's Dr Marietta van der Linden, a Senior Research Fellow in the School of Health Sciences, has been working - in partnership with a colleague at the University of Edinburgh and a physiotherapist from RaceRunning Scotland, and the Cerebral Palsy International Sports and Recreation Association - on developing a classification system that would enable RaceRunning to be a potential Paralympic event.
Dr van der Linden said:
"All sports in the Paralympics need a classification system which is based on scientific evidence. A classification system assesses the extent of an athlete's impairment and groups together athletes based on this assessment. This is about ensuring it's a fair competition and only those with comparable abilities are competing against each other."
"The classification system to assess RaceRunning athletes, which I've been working on with my colleagues, includes measures that are commonly used by physiotherapists such as spasticity (stiff ness in muscles of which gets worse with faster movements) and selective motor control (the ability to make a movement in one joint without moving others). Simple movements which we all take for granted such as kicking a ball, let alone running, can therefore be very challenging for people with a coordination impairment such as cerebral palsy," Dr van der Linden explained.
"But the value of RaceRunning isn't just in the opportunity for people with severe physical impairments to become internationally-recognised athletes. Increased awareness of RaceRunning could mean those with a range of mobility issues – including people recovering from a stroke and those living with osteoarthritis, multiple sclerosis, Parkinson's disease or muscular dystrophy – might try out the sport and enjoy the physical, mental health and social benefits.
"We've seen this happen locally when Enjoy Leisure East Lothian received some fantastic funding support from community groups, including Rotary, to purchase RaceRunning frames for local users. It's brilliant to see the enjoyment and self-esteem benefits people with mobility challenges get from recreational RaceRunning. And I'm very proud of the QMU Physiotherapy students who volunteer down at the leisure centre's track to help get people moving on the running frames," Dr van der Linden added.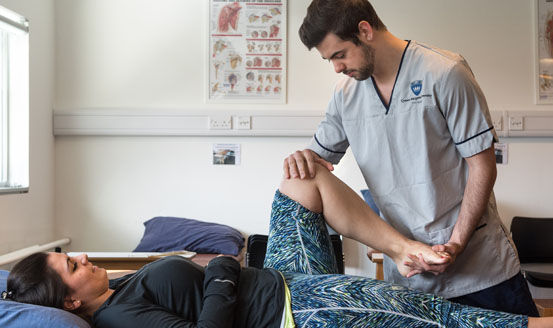 Find out more about our PgDip/MSc Physiotherapy (Pre-Registration) Course