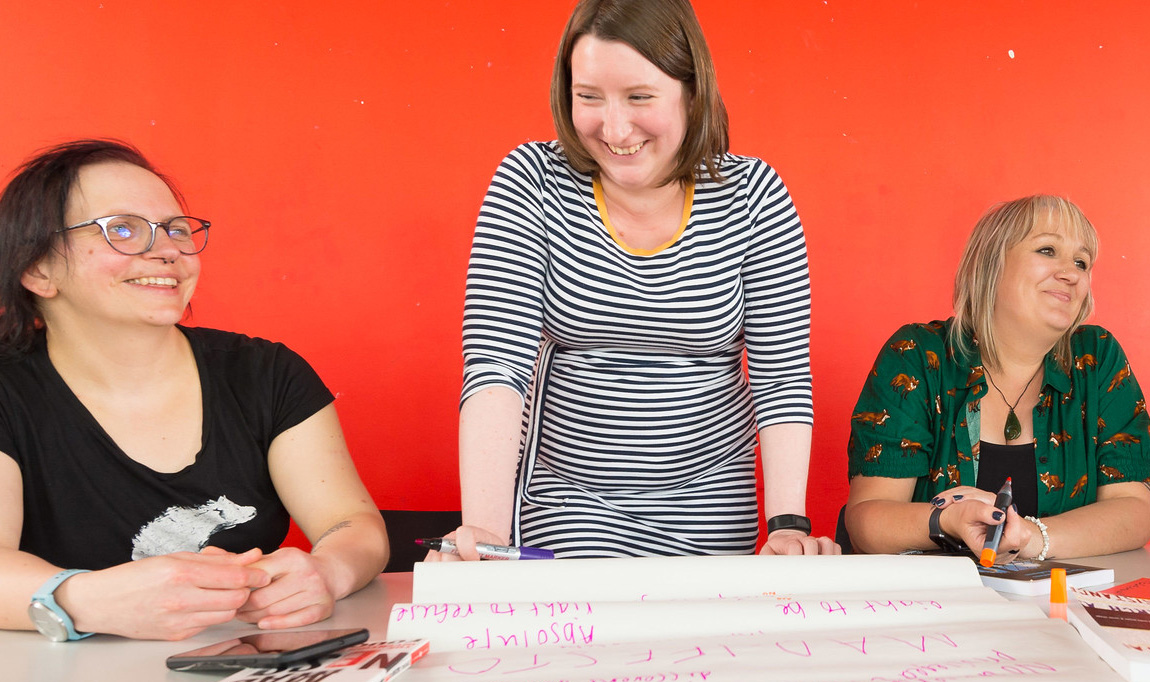 QMU has a long-standing track record of delivering postgraduate courses in the area of social justice, critical pedagogies and partnering with social movements and activist communities.  Our MSc Mad Studies reflects that track record.
What is Mad Studies?
Mad studies is an emerging academic discipline that explores the global knowledge that has emerged from the mad movement. This body of knowledge includes the exploration of the dominant understandings of madness. It examines individual and collective experiences of madness. It offers a critique of the mental health service landscape and the cultural and socio political responses experienced by the mad community. It evaluates activist responses and the creation of mad knowledge and action.
What is central to the philosophy of this MSc Mad Studies course is the importance of the mad community critiquing the dominant discourses on madness by creating its own discourses, spaces, partnerships, alternatives and organisations. At its analytic core, mad studies should have mad people, mad issues and mad culture. Your studies will be driven by regular engagement with activists and educators from the mad community and the close sharing of insights with your peers on the course. You'll learn from academics and activists who have diverse community experience, and who are engaged with critical education, activism and innovative research.
Why study with QMU?
Our MSc Mad Studies is the first of its kind internationally. It has been designed in partnership with CAPS Independent Advocacy, Thrive Edinburgh and academics in the areas of Occupational Therapy and Public Sociology at QMU.
Research informed teaching
Our staff are deeply involved in research, ensuring that course content is up to date. You will be taught by active researchers in their own right, some of whom have recently completed their doctoral studies and others who are publishing in mainstream academic journals. Such engagement is key to the relevance of our courses, and helps equip staff and students with the background to make intelligent decisions about their future. You will also have contact with our growing number of PhD students, and the students who choose further study at master's or doctoral level are able to develop these interests further.
The MSc Mad Studies team are involved in critical research that partners with communities of people with lived experience of mental distress. You will be taught by researchers committed to survivor-led research, many of whom have been engaged in doctoral studies with communities of people within the mad movement. You will be connected to and supervised by a team who are contributing to the growing body of academic and community focused mad studies publications.
Career opportunities
Graduates of the MSc Mad Studies may be suitably qualified for a range of careers involving public engagement in the public or third sector organisations.
A course designed to fit in with your lifestyle
Our courses are designed to enable students who are full-time professionals to study on a part-time basis.
Mad Studies has four scholarship places designed to engage people who are unemployed, on low income or working full or part time within the public or third sector organisations.
There is a blended learning approach that will involve you engaging in online modules and campus based sessions. You will be expected to participate in discussions, collaboratively develop ideas and engage with experiential learning. Both courses offer a unique critical dialogical space to share and expand your knowledge, skills, practice and actions with public sociology, activists and the mad community.