Karen Hicks, Course Leader, BSc (Hons) Public Health at QMU, explains what public health is and why we need specialist public health practitioners to advance this important area for the health of our society.
During the pandemic, we have been acutely aware of the importance of mental and physical health to our overall wellbeing. People are developing a better understanding of what they need to achieve a healthy mind and body – however, ensuring that we, as individuals, have everything we need, in the correct measure, to achieve optimum health is not always straight forward 
The specialism of 'public health' looks beyond what individuals need and focuses on what the wider population requires to be healthy. It looks at the bigger picture - focusing on improving and protecting the health and wellbeing of entire populations. So, public health practitioners can focus their attention on a small local community in, for example, an inner city, or an entire country or region of the world. The specialism of 'public health' aims to achieve a society where the conditions impacting people, such as good housing, access to nutritious food etc, support them to be healthy. The subject is rooted in social justice and equality, meaning that everyone deserves economic and social rights and opportunities, so that they can experience good health and wellbeing.  
But how can we our society achieve equality of health for all people? We all know it's not a level playing field – on the one hand we have billionaires living in mansions with access to the best private healthcare that money can buy, and at the same time, we have people living in poverty in substandard housing without easy access to good quality, nutritious food. So how can we create a fairer society for everyone and improve the health and wellbeing of communities? 
Public health should involve everyone – we can all play a role. It is only through the organised efforts of our society that we can give every individual the best chance to live long, healthy and fulfilling lives.  
But we do need specialists to help take this important area of work forward. We need people who have a passion for equality and social justice, who are interested in helping people and who want to make a difference to the health and wellbeing of our communities. 
That's why Queen Margaret University is now offering a new course, the BSc (Hons) Public Health.  
During the time I have been putting the course together, I have often been asked the question: "What is public health and what do public health professionals actually do?". If we look at Department of Health definition (1998), they describe public health as the art and science of preventing disease, prolonging life and promoting health through the organised efforts of society."  
In practice, it involves different a range of different disciplines which are concerned with preventing disease, prolonging life and promoting the health of individuals. Public health teams, working on the ground, often consist of both clinical and non-clinical staff who work together reduce inequalities and help ensure that people in communities have access to what they need to be healthy. 
To understand public health better, we can look back in history. In the past, the people in charge have made a conscious effort to improve water, sewage and air standards. Particularly in the cities, these important improvements helped a lot more people live far healthier and longer lives. Today, we can clearly see the role of public health when we think about COVID vaccines for everyone; measles vaccines for young children; healthy eating food sharing projects for local communities; quit smoking services; debt counselling services for young families; and physical activity programmes for children and older people.  
If you want to look at a recent extreme case which hits the headlines in recent years, you could consider the vital role the public health team played during the Salisbury poisoning incident when the community in the town of Salisbury in England was under threat of a Novichok nerve agent attack. The incident left one person dead and others severely ill and fighting for their lives in hospital. The public health team played a vital role in working with the police, health teams and the media to communicate the risks, control public behaviour and reduce the risk of further illness and death within the Salisbury community.  
However, contemporary public health practice goes beyond these examples above, and can be defined within the three domains of public health: 
health improvement with a focus on improving the underlying determinants of health;

 

health protection which incorporates communicable disease control; and 

 
healthcare public health which includes health service quality improvement.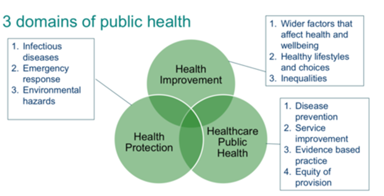 Public health is becoming an increasingly important and respected discipline within our country as we work towards improving the health of the nation and reducing inequalities across our population groups. It's an exciting and developing area of work which offers a wide variety of roles. Here's a taste of what a career in public health might involve:  
Someone who works in

health promotion

– designing, managing, and promoting a range of health improvement programmes.

 

Public health analyst

– supporting the health of the general public by proving helpful data and other useful information which can be used to shape policies and services which impact on the health of the general public in key areas of the country.

 

Community health development worker

– helping communities to bring about social change and improve the quality of life for people in their local area. 

 

Public health practitioner

– working to support communities by developing and managing a range of lifestyle programmes which will help groups improve their health and wellbeing.

 
In the past, people from various other disciplines had roles which evolved into jobs within public health. Now, Queen Margaret University is focused on creating specialist practitioners who are equipped with the right skills and experience to hit the ground running when they enter the workplace in key public health roles.  
If you are passionate about equality, interested in health and wellbeing, and want to make a positive impact in communities, take some time out of your day to look at the new BSc (Hons) Public Health at Queen Margaret University, Edinburgh. This fascinating new course might be your perfect fit!